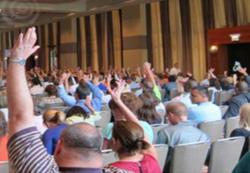 (PRWEB) December 31, 2012
Today, the Common Core Institute has announced speakers for the National Conference on Common Core Assessment: Strategies, Exemplars, and Immediate Priorities. The national conference attracts educators from across the U.S. and South East. At the end of last year's national conference, 98% of attendees indicated they would return to our next conference – with larger teams.
The world of education is at a critical point in time. The Common Core Standards outline higher expectations and require more out of our students, teachers, and administrators. The National Conference on Common Core Assessment: Strategies, Exemplars, and Immediate Priorities has been designed to address the emerging issues in assessment, as well as provide a forum for teachers and administrators to advance their skills and understanding of Common Core based assessments. Whether you are new to assessment or a seasoned veteran, this conference offers great opportunities to acquire new knowledge and insight and is the most effective way to learn from practical examples that can deliver immediate results.
In addition to learning more about the upcoming assessments, educators will develop a deep understanding of Common Core and College & Career Readiness. According to Kevin E. Baird, Chairman at the Institute, the critical issue is how schools approach the standards. States Baird, "If we view the standards as just a new checklist of things to teach, we will fail. To meet College & Career Readiness requirements, we need to get fifth graders reading at today's eighth grade level. The NAEP results indicate more writing is critical. The new assessments require thinking – not just 'knowing'. Accelerating two to three grade levels is more than a challenge – but it is possible."
This year's event offers presentations from leaders in the Common Core and College & Career Readiness industry including: Dr. Kylene Beers, Dr. Bob Probst, Dr. Elaine Roberts, Mike Rush, Dr. Sue Gendron (SMARTER Balanced), LaVonna Roth, Dr. Nancy Hopkins-Evans, and Dr. Melissa D. Reed.
Details for National Conference on Common Core Assessment: Strategies, Exemplars, and Immediate Priorities
Date: Feb. 8 – Feb 9, 2013
Location: Orlando World Center Marriott, Orlando, FL
Register at: http://commoncoreinstitute.org/orlando.aspx
Contact: Lauren Zake at 800.318.4555
Participants in the national conference will experience presentations from guests sharing the latest PARCC, SBAC, and STAAR assessment information. A focus on Highest Fidelity Impact Strategies encourages participants to develop and leave with pragmatic "to do tomorrow" tools.
About The Common Core Institute
The Common Core Institute is a leading research, training and consulting organization working to help schools, districts and states implement the new Common Core Standards. Co-authors of the National Pathway for Common Core Standards implementation, the Institute's senior faculty work directly with the authors of the new standards as well as with Assessment Consortia and publishers. The Institute is dedicated to practical classroom practices which allow teachers to implement the standards effectively.
Educating Communities
The Common Core Institute and its partner, the non-profit Center for College & Career Readiness, provide no and low-cost educational sessions for community leaders, journalists, foundations and parent groups.