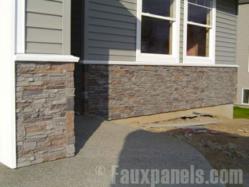 Motley Gray goes with everything
Deer Park, NY (PRWEB) December 28, 2012
Decorative wall panels have so many uses for both residential and commercial properties, so FauxPanels.com is again expanding the color options for home owners, architects and interior decorators by adding Motley Gray to its popular Norwich line. This new color scheme will be available in five of the Norwich siding panel styles.
"Versatility is key today. Home owners want to renovate but don't want to be tied to just one look," said Steve Barron, president of Faux Panels. "They want the flexibility of being able to change things up in a few years without touching their walls. Motley Gray will allow them to do just that and, thanks to its durability, it'll keep looking great for many years to come."
As its name indicates, the predominate color in Motley Gray decorative wall panels is the classic neutral gray, but in a mix of both light and dark tones. Those are combined with other neutral shades but mix warm and cooler earth tones for maximum decorating versatility.
"The great thing about Motley Gray is that you can do one room that plays off the gray tones and then if you want a change of pace in a few years, mix things up and accent the earth tones," said Ruth Barron, vice-president of Faux Panels. "You have so many decorating options that even the most fickle person will be happy.
Being able to use Norwich decorative wall panels indoors or out makes it even more versatile. Redo exteriors, edge a deck or create a retaining wall and then use the same style – or a different stone style in the same Motley Gray color – to create an interior accent wall, cover a fireplace or as a kitchen backsplash.
Motley Gray is available in all Norwich panel styles except Coral Stone so there are five faux stone looks available for remodels and renovations. Colorado stacked stone is available in both regular or tall siding panels. Carolina Random Rock is a mix of square and rectangular shapes. Kentucky Dry Stack is a classic look used both indoors and out. Dakota stone wall has great texture suitable for a variety of designs.
All of the Norwich decorative wall panels are made of highly durable polyurethane, making it more resistant to deterioration than genuine stone. Termites aren't interested in it. Extreme weather and sunlight won't bleach it, warp, rot or fade it. Enjoy its low-maintenance beauty for years to come.
Even better, Norwich siding panels also have special routered edges so they interlock exactly making it easier to have a straight, square installation. Even first-time DIYers can create the look of expensive stone without having to hire a mason. But even if you prefer hiring a contractor, the quick installation can lower labor costs.
"We've barely gotten Motley Gray in and it's already showing the signs of being a home-run product. The mix of shades make it universally appealing for long-term decorating plans," said Barron.
FauxPanels.com is an industry leader due to its huge selection of easy-to-install, low maintenance, realistic faux brick, stone and wood panels and columns, and outstanding customer service. Its products have been regularly featured on television shows such as "Celebrity Apprentice" and numerous appearances on "Extreme Makeover: Home Edition," among others. FauxPanels.com is a subsidiary of Barron Designs Inc., a family-owned home improvement business operating since 1972. For more information, visit FauxPanels.com.