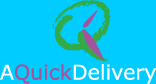 Atlanta, GA (PRWEB) December 28, 2012
AQuickDelivery, a recognized leader in transportation and distribution services, announces their new fleet solution management services. This service is in response to their superior outsourcing services for businesses seeking to optimize costs and reduce their current fleet driver usage. AQuickDelivery is a professional same-day courier, striving to be the best choice in the courier industry.
AQuickDelivery has a full scope of their fleet service solutions within the "Services" page of their website. Their various fleet solutions are a means for businesses to outsource their current in-house operations. AQuickDelivery will be responsible for vehicles and manage drivers. They can handle pick-up, delivery, loading, unloading, and dispatching. The same-day courier also provides immediate assistance, outside of any scheduled services, to help dedicated fleets at any time. These will be AQuickDelivery's own on-call fleet of drivers.
There are a number of benefits involved for any company to outsource their transportation needs to AQuickDelivery. The courier has the expertise to produce route optimization and excellent dispatching services. Companies will experience a decrease of daily liability within their dedicated fleet because AQuickDelivery will assume those risks. Fleet sizes can be adjusted easily with AQuickDelivery, therefore, business can defer on making long-term investments in equipment and vehicles. AQuickDelivery also has experienced, professional drivers and staff, which adds security and comfort knowing that your transportation services will be on-time.
AQuickDelivery is a premier courier of same-day delivery and transportation services. Based in Atlanta, Georgia, AQuickDelivery provide quality courier services to over 1,500 clients, including Fortune 500 Companies throughout the US. The courier company's approach to business is to focus on exceptional customer care, on-time deliveries, and utilize the most modern courier technology to produce optimal results. From scheduled services to national route deliveries, AQuickDelivery is an established courier company, able to offer courier logistic solutions nationwide.