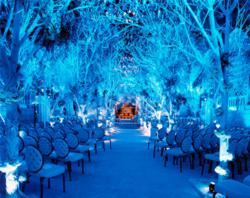 While it is your day, being considerate of those you love is certainly worthy of consideration. The question to ask is, do the advantages outweigh the disadvantages and does it work for me and my needs?Think it through carefully and embrace your decision.
Delray Beach, FL (PRWEB) December 28, 2012
First the bad news. If couples are planning to have their wedding on a holiday weekend such as Thanksgiving, Xmas or New Year's Eve, there are a numerous potential pitfalls to bear in mind.
One of the biggest factors is the possibility that those guests who are not related to the bride and groom may be prevented from traveling to be with their own during family the holiday season. Likewise, if out of town guests opt to come to the wedding, those guests may not be able to be with their families back home and may have to pay a premium for flights and hotel rooms. They would also need to make reservations early enough to ensure availability, or miss out entirely because they hadn't booked well enough in advance.
Another factor is apparent in how busy everyone gets during the holiday season. Logic dictates that if most individual's lives are typically overwhelmed during that time of year. With numerous holiday parties, gift purchases and travel plans, understand that wedding guests are likely having the same stresses during that busy time. Add to that already hectic factor the potential need to purchase a wedding gift, shop for wedding attire and/or make travel plans and there may be some grumbling guests.
"While it is your day, being considerate of those you love is certainly worthy of consideration," says Aviva Samuels, expert wedding planner with Kiss the Planner. "Other than in my home state of Florida where winter is the most popular season to get married, most other states offer better availability and pricing in colder months. In December, however, the many holiday parties create an exception to this rule and the same is true in any part of the country."
Limited availability might also prevent one from booking their venue or vendors of choice, such as bands, DJs, caterers and florists, since so many people will be having house and office parties at that time. A holiday wedding might likely be subject to higher rates and potentially second choice vendors.
Furthermore, holiday décor might already be in place. If you had your heart set on a pink wedding or had a sleek modern look in mind, you might be stuck with a Christmas tree that can't be moved or red and green lighting that you don't want.
"Lastly," Aviva Samuels adds, "you'd have to ask yourself if it was a good idea to choose the busy holiday time for your wedding. It can be difficult enough to squeeze wedding planning into your busy life, but close to the holidays when all the last minute details come your way, imagine yourself trying to juggle that with the rest of life's obligations, before making that critical decision."
On the other side of the coin, however, there are some certain clear advantages to planning a wedding during the holidays.
The first advantage that comes to mind is the ever-joyous three (and sometime four) day weekend. When it comes to time needed to participate in the wedding activities hat happens out of town, a holiday weekend offers that extra time already built in.
When it comes to New Year's Eve, guests may be thrilled to have something that, from the guest's perspective, is a safe, inexpensive and uncomplicated way to party on the the most celebrated party night in the country. It is often a relief for many people, especially the ones of the single persuasion, to have something they have to do that night. No booking tickets, long lines to wait in, high costs or other New Year's Eve headaches to worry about.
Since Thanksgiving is known as family time, what better way to celebrate a wedding, than with one's family. If the plan was to somehow have dinner with his parents but also get across town to her family before Aunt Betty falls asleep, then why not consider a Thanksgiving wedding for all the family to attend?
If one were interested in a Christmas themed wedding or loved the idea of relying on any sort of festive decorations that are already in place, they may be thrilled to save on flowers and décor that can add up quickly in cost. It also allows a rather fun direction when planning the details such as a signature drink based on eggnog or a tree ornaments that can double as both favors and seating "cards".
"I guess the question to ask yourself is, do the advantages outweigh the disadvantages and does it work for me and my needs?" advises Aviva Samuels. "Think it through carefully and embrace the choice that you make." Tis the season to be jolly!
Expert planner, Aviva Samuels of Kiss the Planner, is available to speak with the media about holiday weddings and more. An array of wedding services, including full service wedding planning, destination wedding planning, wedding coordination and signature wedding design are available. For more information on Kiss the Planner and Aviva Samuels go to: http://kisstheplanner.com.