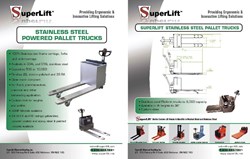 Kitchener Ontario (PRWEB) December 30, 2012
Superlift Material Handling Inc is a full line provider of stainless steel lifts for food and pharmaceutical companies has recently expanded the powered pallet truck product line to include 8000 and 10,000 lb capacity units.
The complete pallet truck product line includes stainless steel and non stainless products with capacities up to 30,000 lbs and configurations for industries such as automotive, food, chemical, pharmaceutical that require speciality lift equipment for their manufacturing and distribution facilities.
The 8000 lb and 10,000 lb stainless steel powered pallet trucks will be primarily used in pharmaceutical and food companies that are moving large stainless steel containers of ingredients in clean rooms.
Superlift is the only company in the world that builds stainless steel pallet trucks in these capacities and is looking for dealers and distributors in all markets that can sell and service this type of equipment.
All Superlift Stainless steel pallet trucks are available in 304 L and 316 L stainless steel in finishes 2B, and # 4 as well as 35 RA and electro-polished to make them easier to clean and suitable for the most severe wash down applications. Superlift has improved the design of the pallet trucks by reduce and eliminating crevices where bacteria such as listeria and salmonella can form saving time on daily sanitation and increasing productivity. Explosion proof models are available for EX clean room applications.
Superlift Material Handling Inc. also manufacturers stainless steel lift tables, stackers, column lifts, vertical material lifts, manlifts and clean room elevators where sanitation is important to the companies.
Contact Superlift for more information and quotations on stainless steel lifts of any capacity and style.