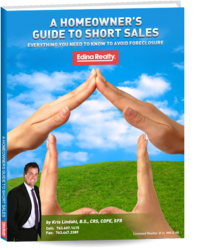 You must give yourself adequate time to go through with the short sale process before foreclosure sets in
Blaine, MN (PRWEB) December 27, 2012
Edina Realty announced this morning that the experienced agent Kris Lindahl will be hosting a short sale resources meeting in Stillwater, MN over the weekend. At the meeting Kris will show attendees how to access and use several online resources that he's created and how to use the most important resource: time. The meeting is expected to be very well attended.
"Time is absolutely of the essence,"Kris Lindahl says, and continues,"You must give yourself adequate time to go through with the short sale process before foreclosure sets in." In addition to talking about important timetables Lindahl will also cover how to find the right agent.
The scheduled Stillwater, MN meeting is one of several in a larger campaign by Kris Lindahl and his team of hard working, full-time Edina Realty realtors. Kris and his team also hold seminars that focus on specific banks and lenders.
Kris received the Chairman's Award from Edina Realty, the highest honor an agent can receive, for excellence in sales and sales volume. "I credit my success this past year to hard work and a technological expertise that gives me the edge over other agents nationwide,"Kris said when asked about his record-breaking performance this past year.
Call Kris Lindahl and his team at (763) 607-1415 for more information. Visit the Minnesota Short Sale Calculator website to check eligibility. Download a complimentary copy of the recently published eBook titled "A Homeowner's Guide To Short Sales" and check out the video series on YouTube.