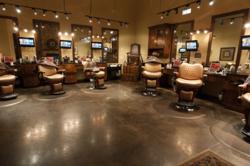 "We are so happy to celebrate our four years in business with the clients and members that made it all possible and continue to call The Gents Place their home for all their grooming and lifestyle needs," says founder and CEO Ben Davis.
(PRWEB) December 31, 2012
The Gents Place has made substantial progress in just four short years.To celebrate this milestone, The Gents Place with have a celebratory party on January 15th with a guest appearance from a special client, Donnie Nelson, General Manager of the Dallas Mavericks and co-owners of the Texas Legends. The Gents Place came to life at that very club, and now has three locations in total; one in Frisco, Texas, Dallas, Texas and Leawood, Kansas.
The club has many aliases yet none of those include barbershop. In fact, The Gents Place prides itself in being much more than that. The club in many ways is comparable to a country club; with annual memberships that allow clients to receive a year's worth of hair services, as well as discounts on services and products and access to all the clubs' VIP networking and social events. Every client that walks through the door can indulge in a complimentary beverage from the open bar, while watching their own television located at each and every station.
The club offers services that include but are not limited to; color, waxing, full-body massages, shoe shines, hair grooming, hand repairs, foot repairs, straight razor shaves and much more. Aside from the wide variety of service options, The Gents Place also offers an enormous retail boutique to shop from. The boutique has products such as; luxury handmade Rolex pens, exclusive men's fragrance from Italy, premium hair and shaving products, Italian leather goods, and even their own line of organic cigars from House of Cigars. Almost every item The Gents Place offers is either exclusive to them, or one of the few retailers in Texas. The Gents Place has proven to be the "one stop shop for everything man."
About The Gents Place
Founded in 2008 by Ben Davis, a frustrated guy who hated getting his haircut, The Gents Place offers men's grooming and lifestyle products and services in a masculine, yet relaxed country club type environment. They offer men's hair services, hand and foot repairs, straight razor shaves, massages, shoe shines and more. Frequently referred to as America's Premier Men's Grooming and Lifestyle Club with locations in Texas (Dallas, Frisco) and Kansas (Leawood), The Gents Place is known for its commitment to client service and top shelf amenities.
To learn more about The Gents Place or to find a club near you, please visit http://www.thegentsplace.com.