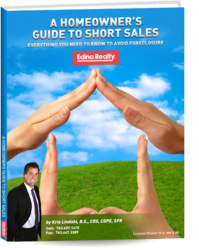 It's important to us that the community has the proper information in order to be comfortable with the short sale process
Blaine, MN (PRWEB) December 27, 2012
Edina Realty announced this morning that the experienced real estate agent Kris Lindahl will be leading a USAA short sale seminar. The seminar will focus on how USAA handles the short sale process. Specific questions about the lender's process will be taken. Lindahl will also show attendees how to use several resources that he's created for the general public's use.
Kris Lindahl has experience working with USAA and would like to pass that information on to the public. Lindahl will discuss the several steps necessary to making the short sale process a smooth process. Picking the right agent and giving yourself enough time will both be central ideas explored at the seminar.
The scheduled USAA seminar is part of a larger project put on by Kris Lindahl and his team of hard working, full-time Edina Realty agents with designations like Certified Distressed Property Experts, Short Sale & Foreclosure Resources, and Council Of Residential Specialists. "It's important to us that the community has the proper information in order to be comfortable with the short sale process," Kris Lindahl said.
Call Kris and his team at (763) 607-1415 for more information. Visit the Minnesota Short Sale Calculator website to check your eligibility. Download a complimentary copy of the eBook titled "A Homeowner's Guide To Short Sales" and check out the video series on YouTube.