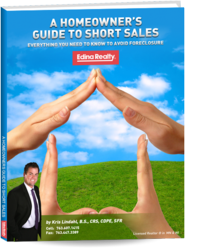 The two most important things are finding the right agent and giving yourself enough time
Bloomington, MN (PRWEB) December 27, 2012
A short sale resources meeting was held by the experienced Edina Realty agent Kris Lindahl in Bloomington, MN on Wednesday morning. The meeting was attended at full capacity. At the meeting Kris Lindahl introduced several online resources to the attendees and walked through how to access and use them. General short sale questions were also taken.
"The most important question I got was where do I start?" Kris Lindahl said after the meeting. "The short sale process can be a daunting experience if you are not prepared," he said, and continued, "The two most important things are finding the right agent and giving yourself enough time." Lindahl explained to the crowd that with an adequate amount of time and the right agent anything is possible.
Kris Lindahl believes that in order to buy or sell a home these days you need the best tools available. "With me as your agent,"Kris Lindahl said at the meeting, and continued,"I can guarantee that you'll have the very best tools. I'm an Internet Marketing Specialist."
The Kris Lindahl team consists of hard working, full-time Edina Realty realtors that hold designations such as Certified Distressed Property Experts, Short Sale & Foreclosure Resources, and Council of Residential Specialists.
Call Kris and his team at (763) 607-1415 for more information. Visit the Minnesota Short Sale Calculator website to check eligibility. Download a complimentary copy of the eBook titled "A Homeowner's Guide To Short Sales" and check out the short sale video series on YouTube.