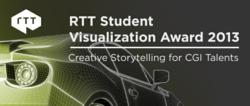 Munich (PRWEB) December 27, 2012
Young, creative talents can submit their entries until March 15, 2013. A high-caliber jury comprised of members of the media, as well as the visualization and automotive industries will jury the work.

Creative story-telling opportunit for CGI talents to overcome the limits of the (im)possible
Submission deadline March 15, 2013
Prizes with a value of over 10,000 Euro
Winners will receive an invitation to attend RTT Excite 2013 (April 24-25, 2013, Munich), where the prizes will be awarded, including a one-year student license for RTT DeltaGen visualization software. Additionally, second and third place winners will receive maximum performance hardware from the award sponsors (high-end graphics cards from Nvidia and Wacom Intuos tablets). The winning project will also receive prize money of 3,000 Euro. More information on the "RTT Student Visualization Award 2013" can be found on http://www.rtt.ag/studentaward.
The task
The task for the "RTT Student Visualization Award 2013" is to evolve and complete the story of a photographer who has meticulously planned the film shooting of a Toyota GT 86 for an international top car magazine that suddenly takes an unexpected turn. Participants must call on their imagination to continue the story using 2D and 3D computer graphics tools. Entrants are challenged to move beyond the limits of what seems (im)possible, in line with RTT's slogan, "Challenging Reality". A new development in this year's competition requires the task to be completed by teams consisting of three students each. The automotive industry has also recognized the great potential of this competition, spanning across technical areas, in that the 2013 competition receives industrial support from Toyota Motors Europe (Brussels).
RTT supports 3D professionals
RTT has previously supported talented students as part of its "Up" University program for many years. The "RTT Student Visualization Award" is a part of this initiative, for which RTT creates new challenges every year. Starting in April 2013, RTT will also be offering a two-year trainee program for 3D visualization at its Munich location. This international program is directed at graduates and young professionals, as well as self-taught individuals with experience in product visualization and an eye for detail. Additional information about this program is available on the Internet at http://www.rtt.ag/career. Applications may be submitted effective immediately.
About RTT
RTT is the leading, one-stop-provider of high-end software, consulting and creative services in professional, 3D visualization. As a strategic partner, RTT offers sustainable, effective and seamless process support across the entire product lifecycle with its holistic approach. As a result, products are developed faster and more cost-effectively while time-to-market is significantly reduced. Through creative, photorealistic CGI implementations RTT enables innovative sales and marketing advantages and new dimensions of emotional brand staging. The Group´s customer-base includes companies like Adidas, Audi, BMW, EADS, Electrolux, Ferrari, General Motors, Harley-Davidson, Porsche, The North Face and Volkswagen. RTT AG was founded 1999 in Munich