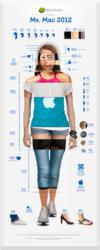 It turns out the average Mac user is pretty cute.
Campbell, CA (PRWEB) December 27, 2012
BlueStacks released their App Player for Mac product into beta today, opening up access to 750,000+ Android apps for the first time on Macs. A previous alpha version was released in June that came with a small set of pre-loaded app partners such as Fruit Ninja and Pulse. The PC version of the popular App Player software has been in beta since early 2012 and has been installed on over 5 million computers from the company's website, BlueStacks.com.
To commemorate the launch of the new Mac program, BlueStacks debuted "Ms.Mac 2012," an infographic representing the typical Mac user worldwide. Ms.Mac is an amalgam of photos that make up one young woman, using statistics gleaned from surveying Mac users from BlueStacks' over one million Facebook fans worldwide, along with recent research from Nielsen.
"It turns out the average Mac user is pretty cute, if awkwardly dressed," said BlueStacks VP, Marketing John Gargiulo. "We felt like mad scientists putting her together these past two months." BlueStacks' Facebook fanbase has grown from 145,000 when the Mr.Android infographic was released, to over 1.1 million fans today. "The data was much richer (than last year)," said BlueStacks Senior Data Scientist Lokesh Setia, Ph.D. "The increase in sample size gave us a lot more to work with in determining what makes up the prototypical Mac user today. The blouses were a surprise. Apparently, females who use Macs very much enjoy blouses."
The beta version of the App Player for Mac released today is software that will run any off the shelf Android app on a Mac. The product uses BlueStacks' patent-pending Layercake technology to make this happen. To date, BlueStacks is the only software that can run mobile apps on a Mac. It is available for download free from BlueStacks.com
About BlueStacks
BlueStacks enables 750,000 Android applications to run on Windows and Mac computers. The first version of its App Player product launched in 2011. The company is privately held and headquartered in Silicon Valley with global offices in India, Japan and Taiwan. For more information, visit BlueStacks.com. You can join their 1.1 million Facebook fans at Facebook.com/bluestacksinc or on Twitter at Twitter.com/BlueStacksinc
Contact:
John Gargiulo
VP, Marketing + Business Development
John(at)BlueStacks(dot)com
(646) 261-9915