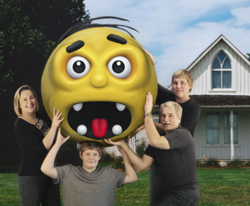 We are looking for BusterBall to be to Video Games what Charlie Chaplin was to the movies.
Ottumwa, IA (PRWEB) December 27, 2012
While sitting on their farm in Southern Iowa, one family noticed a lack of comedy and real belly-laughs coming from playing video games so they decided to do something. They started Full Sea Productions and set out to build games that would give players thousands of reasons to laugh. Soon they'll release their first 3D mobile game, BusterBall™, for iPhone, iPod, and iPad. BusterBall will have completely original game play and "shockingly funny" humor.
During a recent interview the CEO of Full Sea Productions, Scott Mooney, talked about the inspiration behind building the BusterBall game saying, "We know 'shock-value' can be a major driver of video game play." He explained, "With BusterBall we decided to take a different approach to 'shock-value'." Adding, "We believe a game can be 'shockingly funny' if the roots of the game are roll-on-the-floor hilarious from square one."
Just having humor slapped into a game for the sake of trying to be funny is not likely to gain traction in a world filled with thousands of entertainment options fighting for attention from sophisticated game players. It will take over-the-top hilarity being a major design element of the game play to turn heads today. According to Mooney, "We are looking for BusterBall to be to Video Games what Charlie Chaplin was to the movies." Mooney believes that laughter and comedy can be a driving force for video game design in the coming years.
The BusterBall game itself is a true 3D action game where you play with (or is it against?) a hilarious talking yellow ball named Buster who is not just ridiculously funny but also easy for players to identify with. Buster's unique personality contributes to the games' addictive quality. Buster is also highly quotable, making the BusterBall game an instant hit with all of the game's hundreds of test players.
BusterBall will be released in Q1 of 2013
See Short BusterBall Video at: http://youtu.be/Vf3TEnbs_TE
See BusterBall Screen Shots at: http://fullseaproductions.com/screenshots
See our Press Kit at: http://fullseaproductions.com/presskit
About Full Sea Productions
Full Sea Productions is run by the Mooney family on their farm in Iowa. Actually their farm is located in Ottumwa, Iowa, which also happens to be the Video Game Capital of the World (and yes, you can Google that). Every day, after the chores are finished, a combination of Video Game Production and School Studies take a front seat for Blake and Shane Mooney (aka "the boys") along with Scott and Marthalee Mooney (aka "mom and dad"). In 2011, the Mooney family founded Full Sea Productions to develop 'shockingly funny' video games that truly make people laugh and have fun. With the upcoming release of their debut game, BusterBall, they believe you will …Never Game the Same Again™.