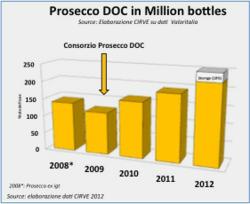 Verona (PRWEB) December 27, 2012
Part of the Year of Italian Culture in the USA promoted by the Italian Foreign Service, Vinitaly (in New York and Miami on January 28th and 30th respectively), will feature a rich program to bring the latest Italian fine wine trends to the USA. Once again wine professionals will be able to engage in myriad Master Classes and educational sessions, including a business seminar hosted by the Wine Market Council. Wine bars with interactive iPad tastings will highlight the walk-around tasting, which this year will be home to a vast number of exhibitors showing the latest fine wines from Italy.
The New York program will feature a special presentation by John Gillespie, President of the Wine Market Council, to shed light on trends in consumption of imported wines in 2012.
The program also includes guided master class tastings hosted by GIV, (Gruppo Italiano Vini) which will showcase a vertical tasting from acclaimed producer Nino Negri, and Consorzio Tutela Vini Soave, which will present an array of great white wines in line with the concept of Vulcania, the international forum on white wines from volcanic soils. Vulcania tackles themes pertaining to geology and education with the participation of eminent lecturers, journalists and communicators aimed at promoting these special wines.
US importer Palm Bay will share a special selection of fine Italian wines with invited members of the trade.
Each of the master classes will be enhanced by the Vinitaly Interactive iPad application to record the tasting preferences of each taster using a QR coded bracelet, which in return provides him or her with a personalized tasting book.
One wine category that will have special standing at Vinitaly USA is Prosecco DOC. Since the DOC status was granted to Prosecco in 2009, with the Consorzio di Tutela del Prosecco DOC being set up shortly thereafter, this sparkling category has experienced significant growth and actually overtaken traditional leaders such as Champagne in the USA. The success story translates into more than 1 million cases imported into the USA today, equal to an annual growth of about 35%. Prosecco DOC production has grown from five million bottles in 1970 to almost 200 million bottles produced in 2012, representing a 3900% increase over this period. The wine produced from the Glera grape equates to 196 million total bottles per year. The Consorzio di Tutela del Prosecco DOC brings together groups of producers - individual or associated vine-growers, still and sparkling wine producers – from the provinces of Treviso, Venice, Vicenza, Padua, Belluno, Gorizia, Pordenone, Trieste and Udine. The Consorzio Prosecco DOC ensured sustained promotion in the USA throughout 2012 with the aid of various Vinitaly International initiatives, including events in Chicago and New York in April and May and American Cancer Society (ACS) fundraiser events such as Taste of Hope in May and Hope Lodge in December; the consortium will again be an integral part of Vinitaly USA 2013 with a special master class open to the public during the evening event for consumers on January 28th in New York.
Members of the wine trade and press may register to attend the events in New York City and Miami at http://www.vinitalytour.com/formusa2013_eng.php
About:
Veronafiere is the leading organizer of trade shows in Italy including Vinitaly (http://www.vinitaly.com) , the largest wine event in the world. In 2012, over 4200 exhibitors showcased their wines to 140,000+ visitors (35% from outside of Italy representing over 120 countries). The 47th Edition of Vinitaly will take place on April 7th-10th in Verona, Italy with its premier event, OperaWine (http://www.operawine.it) - Finest Italian Wines: 100 Great Producers, being held in collaboration with Wine Spectator on April 6th in the heart of Verona.
Veronafiere created Vinitaly International (http://www.vinitalytour.com) in 1998 to develop a global platform for the promotion of companies in the Italian wine and food sectors. The latest development saw Vinitaly aiming at increasing Italian wine sales in China as it reinforced its partnership with the Hong Kong Trade Development Council (HKTDC), which organizes Asia's leading wine fair, the Hong Kong International Wine & Spirits Fair.