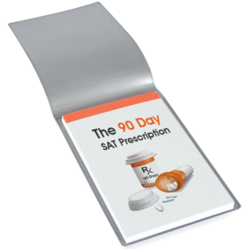 There's never been a program this easy to use for this little money - the effectiveness of the program is enhanced by its ease of access.
New York, NY (PRWEB) December 28, 2012
Anthony-James Green, New York's Best SAT tutor, is offering a self-study program that captures his one-on-one tutoring lessons in a step-by-step software program. Green's new program, the 90 Day SAT Prescription, shows students exactly what to do, when, and how in order to achieve Ivy-level SAT scores on a constant, repeatable basis. The new program will be available to the public for the first time on January 3.
In anticipation of the release, Green has released new details about his upcoming SAT self-study program. The new details are a never before seen look at the program's true form, which includes strategies, lesson plans, review exercises, practice tests and sophisticated educational techniques. Further details are available at http://www.beyourowntutor.com.
"The 90 Day SAT Prescription is the exact plan I put my own students on to achieve such remarkable results," says Green.
With an average score improvement of 400 points, Green has had success stories of 700 point improvements with his one-on-one students' SAT scores. Green, who normally charges clients $500 an hour for one-on-one tutoring, is offering the same benefits in his online software program for $379.95.
Unlike other SAT programs, the 90 Day SAT Prescription is accessible from anywhere on any internet connected device. Students who purchase the program automatically receive initiation materials, a username and password. Students will be sent a quick start guide that lays the foundation for what to expect throughout the program. Students then log in every day for 90 days to complete the lesson plan for each day that appears when the student logs in. Each lesson includes manuals, guides, practice exercises, and more in an online multi-media workbook format.
The software, plus the Official Guide to the SAT and two additional $10 books, are all the materials that are needed to successfully complete the program. The program itself also includes 11 full-length, timed practice SATs.
"These practice exams track student scores, isolate weaknesses, shape the student's program, improve the student's strategy and gets them used to taking the exam," says Green, "Students customize their plan and do not waste time on things they already know or things that are beyond their comprehension."
Even parents are given reading materials to help their students succeed. With the purchase of the program, parents receive Test Prep for Parents, a step-by-step guide teaching parents how to enhance their students' results and improve their college admission opportunities.
The benefits continue beyond the students scheduled SAT; after students receive their SAT scores, they can enter their scores into the program to receive free college guides, college consulting advice, academic assistance and more. And if scores do not approve by hundreds of points or the student is unsatisfied with the program, Green is offering a full refund, no questions asked.
"I am so confident in the 90 Day SAT Prescription that I have no hesitation in offering this money back guarantee," says Green, "This program is proven to work. If students follow the step-by-step instructions and daily lesson plans, I guarantee that their scores will improve dramatically."
Green will be launching his 90 Day SAT Prescription January 3. The program will cost $379.95, but students and parents who sign up for Green's pre-launch list (free on his site) will receive a $100 discount on their order. This discount is only available to those who sign up before January 3, 2013, and can be accessed here:
Green is also giving away free guides, tutorials, and more through his newsletter service at:
Green has worked with over 320 students one-on-one, launched and sold his own SAT tutoring firm, authored four books on the subject of SAT prep, and designed the wildly popular SAT vocabulary software:
Green lives in downtown Manhattan, where he works with his students full-time when he's not developing new tutoring software programs and guides.
###