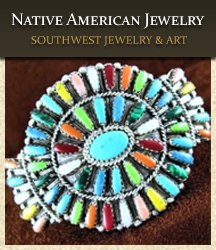 Those who were disappointed by their Christmas haul can now get what they really want!
Scottsdale, AZ (PRWEB) December 27, 2012
The Christmas holiday has passed and all the gifts have been handed out and unwrapped. While giving may be the reason for the season, not all that were nice got what they wanted from Santa this year.
For those passed over by the jolly man in red this holiday season, Native American Jewelry is offering special end of the year sales and discounts.
"First and foremost, we hope everyone had a safe and Merry Christmas," said Native American Jewelry spokesperson Steven Onida. "We understand that not everyone received what they were hoping for under the tree. Now, those who were disappointed by their Christmas haul can get what they really want."
NAJ offers the latest in Navajo jewelry styles and Hopi Indian jewelry. These stunning pieces have all been marked down to some of the lowest prices of the year.
"Our amazing deals and discounts didn't end with December 25th," said Onida. "We invite those looking for a fresh start in 2013 to take advantage of the lowest prices of 2012."
While women will be interested in the stunning rings, bracelets, necklaces and earrings, men will love the wide assortment of belt buckles, bolo ties, watches and money clips that have been marked down for the post-Christmas sale.
Customers are also encouraged to sign up for the Preferred Member program. Preferred members receive premium discounts and the latest news on new pieces and products before anyone else. Either way, all customers can receive free shipping to all addresses located in the United States.
For the latest in Navajo jewelry styles or to view the stunning collection of Hopi Indian jewelry, please visit NativeAmericanJewelry.com