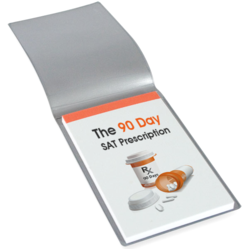 There is no small print. There are no exceptions. I guarantee my program works or your money back.
New York, NY (PRWEB) December 30, 2012
Nationally acclaimed SAT tutor Anthony-James Green is offering an unheard of guarantee on his new SAT software program, the 90 Day SAT Prescription. Unlike other SAT prep programs, the 90 Day SAT Prescription comes with a 100% money back guarantee. In an industry with weak guarantees and little to no refunds, Green's offer remains unique among his competitors.
"If students do not see their scores improve by hundreds of points or are unsatisfied with the program, they can receive a full 100% refund, no questions asked," says Green, "There is no small print. There are no exceptions. We guarantee our program works or your money back."
The 90 Day SAT Prescription, which will be available to the public for the first time on January 3, is an SAT prep software program designed to give students step-by-step lesson plans each day for 90 days. The 90 Day SAT Prescription is accessible from anywhere on any internet connected device. Students who purchase the program automatically receive initiation materials, a username and password. Students then log in to the software every day for 90 days to complete a customized lesson plan for each day. Each lesson includes manuals, guides, practice exercises, and more in an online multi-media workbook format. It's the first and only way for students to study for the SAT independently of software programs, tutoring firms, and classroom learning.
Green states, "I am so confident in the 90 Day SAT Prescription that I have no hesitation in offering this money back guarantee. This program is proven to work. If students follow the step-by-step instructions and daily lesson plans, I guarantee that their scores will improve dramatically."
Green, founder of Test Prep Method and author of Own the SAT, has successfully helped over 300 students improve their SAT scores an average of 400 points through his personal tutoring services. In many cases, Green has seen students improve 700 points or more in a matter of months.
"The 90 Day SAT Prescription is the exact plan I put my own students on to achieve such remarkable results," says Green, "The program uses a combination of different media to help students learn the skills, attack their weaknesses, and improve scores unlike any other program."
Green will be launching his 90 Day SAT Prescription on January 3. The program will cost $379.95, but students and parents who sign up for Green's pre-launch list (free on his site) will receive a $100 discount on their order. This discount is only available to those who sign up before January 3, 2013, and can be accessed here:
Green is also giving away free guides, tutorials, and more through his newsletter service at:
Green has worked with over 320 students one-on-one, launched and sold his own SAT tutoring firm, authored four books on the subject of SAT prep, and designed the wildly popular SAT vocabulary software, Vivid Vocab.
Green lives in downtown Manhattan, where he works with his students full-time when he's not developing new tutoring software programs and guides.