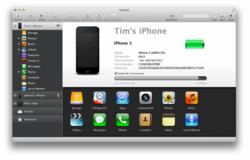 Adding Wi-Fi and multi device support is going to change iPhone and iPad file transfer.
Pushing files to teams devices across the network has just become a reality.
Geneva, Switzerland and Geraldton, Western Australia (PRWEB) December 27, 2012
DiskAid 6 introduces a major breakthrough in iOS device data and file transfer management: unlike any competitor or predecessor DiskAid 6 allows access to the iOS file system from a computer wirelessly. Files, folders and documents are transferred between a Mac and any iPhone, iPad or iPod touch via any Wi-Fi network - no cable needed, no Jailbreak or SSH required.
Alongside with this powerful connectivity enhancement, DiskAid 6 allows simultaneous transfers with multiple devices, bringing DiskAid to an unrivalled level of versatility. It is now possible to manage numerous devices and documents from a single computer, all at the same time.
Furthermore DiskAid 6 no longer needs the device's connection to transfer all data contents such as SMS text messages, contacts, notes, voicemail, voice memos and call history back to a computer. This awaited upgrade will noticeably facilitate retrieval of devices' backup in the event of a loss, theft or destruction of an iPhone.
View DiskAid 6 for Mac OS X complete feature update on the change log
All DiskAid 5 licenses purchased after October 1st qualify for a free upgrade to DiskAid 6 Mac version.
DiskAid Mac and PC versions are available for download from DigiDNA's website.