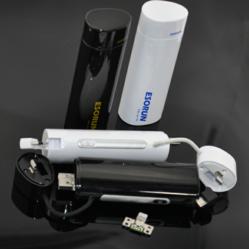 Esorun power bank for iPhone 5 with MFI authorization, with Micro and 8-pin connectors
(PRWEB) December 28, 2012
Esorun, a well known manufacturer of Apple iPhone Accessories is the technological force behind this innovative iPhone 5 battery case.
Handy to use, the trendy design of iPhone 5 external power case also has the abilities to support Samsung, HTC and any other digital device with a micro USB connector.
Weighing just 82 grams, this cute Power Bank has a capacity of 2600mAh/3.7V, involves a charging time of 3.5 hours and provides a running time of 2 hours.
The MFI certificate weighs Power Bank as an indispensable apple iPhone accessory, especially as an iPhone 5 back up battery pack.
With this extended battery case, people using iPhone 5, iPad4, iPad Mini or other smart devices with USB charging points can never run out of power and hence the name – Power Bank!
Recent online surveys indicate that a large number of people have complaints about the short iPhone battery life. With the Esorun's innovative Power Bank, issues concerning iPhone battery replacement could become history.
The certified Power Bank with 8-pin connector is a handy and reliable emergency charger for the iPhone battery.
The mini size (99mm×33mm×24mm) gives Power Bank the advantage of being carried around easily and its trendy curved design is a comfortable handhold.
The Micro USB power bank plug enables Power Bank to be used for digital devices by Samsung, HTC and other brands that are enabled with micro USB connectors.
An MFI certification and Esorun's reputation as a manufacturer focused on quality and innovation will perhaps help the company in marketing the first Power Bank at a great pace in near future.
About Esorun Technology Co Ltd
Esorun is a professionally run technology company that manufactures and supplies iPhone and iPad accessories, wireless external hard drives, power banks, external batteries, Bluetooth speakers, fly mouses and other phone accessories.
The company's core technology team consists of professionals who gained over 10 years of experience working with Foxconn and Huawei Groups.
The Esorun office and factory is located in Shenzhen, China.