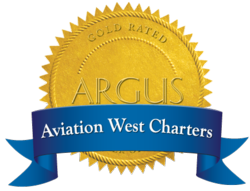 Our commitment to excellence shines through this Gold, but now we are going for Platinum
Scottsdale, AZ (PRWEB) December 29, 2012
Angel MedFlight is proud to hold a Gold standard ranking with ARGUS.
The executive team has dedicated resources and time to ensure Angel MedFlight exceeds industry best practices. This in-depth, on-site audit is comprised of 3 components including flight operation, maintenance, and safety.
Angel Medflight pilots and aircraft are evaluated quarterly by ARGUS. This vigorous process solidifies that in addition to commitment, safety and care, Angel MedFlight is always, and will always provide the best service possible.
ARGUS ratings are extremely important. Much like the Better Business Bureau rating system, ARGUS Charter Evaluation and Qualification (CHEQ) – a third-party rating and due diligence system – is a rating system for the aviation industry. This rating system has 3 options available: Red, Yellow, and Green. Red is bad in terms of choosing the best ratings for record of safety and efficiency. Yellow means to be cautious in your choice. Angel MedFlight is proud to maintain a green light.
Link to full article: http://blog.angelmedflight.com/
To schedule an interview on this topic, contact Jennifer Vogel (480) 440-0485.
About Angel MedFlight : Angel MedFlight coordinates domestic and international air medical transportation services, commercial medical escorts, ground ambulance services and provides discretionary insurance benefit assistance. Angel MedFlight's One Touch Promise® assures every detail is handled and all resources are committed to guide the process from start to finish with a compassionate team of experts in the fields of medicine, aviation, insurance law and case management. http://www.angelmedflight.com
About ARGUS:
ARGUS is a specialized aviation services company with global expertise whose mission is to provide the aviation marketplace with the information needed to make informed decisions and manage risk. Angel MedFlight ensures that all flights are conducted safely and efficiently while complying with all regulatory agency requirements.