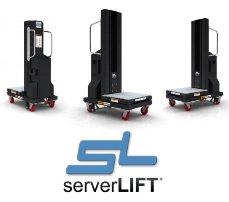 Phoenix, AZ (PRWEB) December 28, 2012
ServerLIFT Corporation is an industry leader in providing solutions for handling servers and related IT equipment safely and efficiently. The company has just announced a limited time re-introduction of two popular legacy products; the SL500® Classic ServerLIFT and the PL500A Platform Extension at newly reduced prices in the all new ServerLIFT Outlet. These two devices were the prequel to their current and celebrated SL500X® ServerLIFT. ServerLIFT solutions have consistently exceeded customer's expectations, having been implemented in thousands of leading data center locations around the world.
Heavy, bulky, and cumbersome computer equipment is difficult to move from place to place especially in the small confines of a data center. The robust SL500® Classic ServerLIFT is designed specifically for use in any data center environment, with a lifting capability of up to 500 pounds. ServerLIFT products were specifically designed for the data center, easily navigating sharp corners and cramped aisles. Each model is designed with sturdy swivel castors and a trim 24 inch frame, allowing a single employee to easily install and move heavy IT equipment in and out of narrow data center aisles.
ServerLIFT products require no certification to operate, with each unit delivered fully assembled and ready to use right out of the box. The SL500® Classic features a side-shifting shelf, which allows a seamless transition of equipment from the platform into the rails of the rack. The unit is easily charged and stored; solving numerous mobility issues in any data center. The PL500A Platform Extension is designed to lift loads from the ground level, and doubles as a tool to lift new equipment out of boxes.
ServerLIFT has been supporting data centers around the globe since 2006, continuously innovating as the industry grows. The SL500® and PL500A will be offered through the ServerLIFT Outlet with reduced pricing while supplies last. Videos and instructional information are available for all the company's services at their comprehensive outlet website