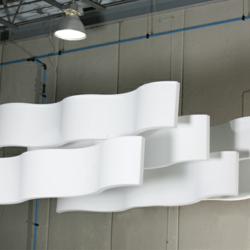 Richmond, VA (PRWEB) December 28, 2012
Acoustical baffles are vertically suspended sound absorption products that are often used to acoustically treat gymnasiums, halls, lobbies, manufacturing facilities, and other large spaces with high ceilings. By hanging from above, baffles reside in a space where sound tends to get "stuck". This is because sound waves reflect off of hard surfaces (walls, ceilings, floors) and continue to echo or reverberate often for long periods of time. Baffles provide greater sound absorption in these applications than acoustical wall panels due to greater exposed surface area and range of placement, significantly reducing reverberation of sound and improving speech intelligibility.
Whisperwave™ Ribbon Baffles are a curved accent acoustical baffle that is unique because it allows you to add movement and creative design while reducing noise and reverberation. The Ribbons are a new addition to the Whisperwave™ line, which all add dimension and acoustical control right where it is needed most – open, reverberant spaces.
"We introduced the Whisperwave line here at Acoustical Solutions over a year ago," says Gary Hudson, ASI national sales manager, "they have quickly become some of our most popular products because they look amazing – and like no other acoustical product – but most importantly they are a high performing noise control solution. The new Ribbon Baffles provide another aesthetic option, broadening the design potential of the line".
Made from Class 1 fire-rated willtec® foam, Whisperwave™ products are offered in standard and custom sizes and curve patterns. Whisperwave™ products are lightweight and easy to install. The line also includes standard baffles and acoustical clouds.
Whisperwave™ products are available in natural white and light grey or can be HPC-coated (black, grey, white, almond or charcoal). Whisperwave™ Ribbon Baffles also offer competitive NRC ratings averaging 0.95 across the audible frequency range.
About Acoustical Solutions, Inc.:
Since 1989 Acoustical Solutions, Inc. has provided the detailed expertise needed to serve the noise control community. Acoustical Solutions, Inc. works with a wide variety of customers from commercial and residential development to worship facilities, recording studios and home theater designers. Acoustical Solutions, Inc. offers the industry's most comprehensive selection of noise control and soundproofing products, including a full line of indoor and outdoor industrial, commercial, environmental, and architectural noise control products. For more information please visit http://www.AcousticalSolutions.com, call 1-800-782-5742, or see our media kit.
###