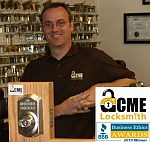 Mesa, AZ (PRWEB) December 29, 2012
ACME Locksmith was named a Best of 2012 winner in the Mesa Locks & Locksmiths category on Kudzu, the leading source of local business information and consumer reviews. Over 5 million businesses competed across 30 categories, and winners were awarded based on the highest number of votes received.
ACME Locksmith provides automotive, residential and commercial locksmith service throughout the Phoenix area. In addition to on-site service ACME Locksmith operates a fully staffed Lock and Safe Shop.
"This award is particularly meaningful to us," said Robert Vallelunga, Owner of ACME Locksmith. "It is entirely based on reviews of our company from the people that matter most, our customers."
"Consumers value companies who appreciate their business and provide superior service. We wanted to create an open forum where the best companies could be recognized by Kudzu users," said Fran Wills, General Manager of Kudzu.
About ACME Locksmith:
Founded in 1997, ACME is located in Mesa, Arizona and provides service throughout the Phoenix Valley. ACME is the only Phoenix Locksmith Service to have earned a BBB Ethics Award. ACME has previously been recognized as a 2011 Phoenix Best Contractor.
About Kudzu:
Kudzu helps consumers research and evaluate services and choose highly rated providers in their area. Kudzu.com features expert videos, business profiles, consumer reviews and 30,500 money-saving deals for homeowners in every major U.S. city. Kudzu.com is owned by Cox Search Inc., a subsidiary of Cox Enterprises, a leading communications, media and automotive services company. Cox's businesses include Cox Communications, Manheim, AutoTrader.com and Cox Media Group. For more information, visit http://www.kudzu.com