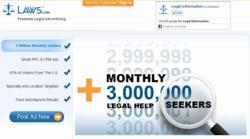 The business lawyer database allows the user to find business lawyers in their city
New York, NY (PRWEB) December 29, 2012
Laws.com one of the fasting growing law site for finding lawyers online has announced the launch of business lawyer database to its lawyer listing. The launch of this database listing allows business lawyer and law firms in USA to list their service in laws.com. The launch of business attorney listing comes at a time when the visitor for laws.com lawyer search is fast growing.
The business lawyer database allows the user to find business lawyers in their city and to get useful information about the lawyer. Laws.com business lawyer listing uses technology to match the user location with lawyers in the database, the matching result from the database returns a list of business lawyers near the user location.
Apart from the listing of business lawyer information on lawyer search page, laws.com also list the business lawyer listing along the business law pages. When a user is visiting a business law page, the site will display the business lawyers from the user geographic location, this highly targeted matching of business lawyer to visitor help the user to find the right lawyer, and on the other side, this help the business lawyer to get more relevant leads. The site offer regular and featured listing for business law firm, the regular visiting is free for lawyers.
Business law firm can reach laws.com user by registering their service with laws.com business lawyer advertisement sign up. Lawyer registration allows their profile to list in business lawyer database and subsequently the listing will appear for visitors searching business lawyers.
Laws.com is one of the most visited law website in USA. The site attract users searching for lawyers, looking for legal forms, lawyer and student searching for court dockets and individuals looking for information on state and federal laws. The site is one of the largest online law sites for free court documents in a printable format.
The laws.com business lawyer is listed in the below page for the user to find the business lawyer. http://lawyer.laws.com/business-lawyer