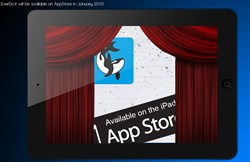 I see this as an opportunity for Evernote users.
(PRWEB) December 27, 2012
The original version of GTD manager has been updated with a few extra features such as a task creator in EverDo.it on the functioning by using selected tags, specified by the user in Evernote. The enrichment of the application with new functions is the result of feedback provided by a group of beta testers of EverDo.it.
One supporter of the EverDo.it project is Daniel Gold - DEG Consulting's CEO; a productivity consultant, keynote speaker, and author of the best selling Evernote eBook "The Unofficial Guide to Capturing Everything and Getting Things Done."
"EverDo.it's iPad app represents a fundamental game changer in incorporating David Allen's Getting Things Done time management methodology with Evernote. "Like my book, the developers of EverDo.it seized an opportunity to marry GTD and Evernote in a way that is seamless and allows you to become more efficient and productive," said DEG Consulting's CEO.
Mr. Gold went on to say, "I see this as an opportunity for Evernote users to quickly process tasks collected in their inboxes, organize projects and next action items down by context, and provide an easy to understand interface to review and get things done. Most of all, the bi-directional syncing between Evernote and EverDo.it gives users peace of mind that their data is always going to be with Evernote."
Onemln CEO, Karol Stojek said, "We are honored to receive such a good review from Daniel. He's received tremendous praise across the world for helping change people's lives with his methodologies. Daniel is a Management Solutions Specialist and his opinion means really much to me. In my view our app is already a success. We feel that our hard work on the innovative features of our application will enable Evernote users to easy organize their projects, to do lists, tasks and calendar. We are very excited and looking forward to having EverDo.it available on the mobile market in the first half of January. New year, new organizing opportunities to improve your productivity, doesn't it sound great?"
For more information about everDo.it, please visit http://www.everdo.it
About Daniel Gold:
Daniel Gold is the CEO of DEG Consulting where he conducts seminars, presentations, and consults with corporations and individuals on how to leverage new technologies to become more productive, effective and efficient. Combining his backgrounds in technology, presentation design and his legal background, Daniel's presentations are compelling, convincing, and motivational.