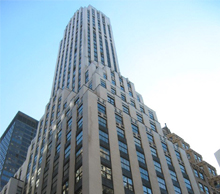 Many companies will provide you with an address and phone number, but don't offer the physical presence. That's where we stand out.
(PRWEB) December 28, 2012
Corporate Suites, one of the leading providers of office space rentals and virtual office in New York City has introduced new virtual office packages that will be available at seven Manhattan locations, including their newest location at Rockefeller Center / Times Square.
A virtual office provides a business with telephone and address services without establishing a physical office. A business can maintain a prestigious address in major commercial areas, or establish themselves in a market with a business address; without the need to physically rent office space in New York City or commit to a long-term lease. They receive mail and packages at the address, and can access services on-demand at the address such as a meeting room or executive suite to meet with co-workers and clients.
Demand for virtual offices in New York has risen even through a recessionary market. Virtual office services cut overhead and operational costs; ideal for business professionals who do not need a dedicated office. Technology makes it possible for many professionals to work from home, or from anywhere in the world as they travel. The virtual office solution provides them with a fixed address and phone number, with a receptionist, provides for a professional appearance for home-based and mobile businesses.
Virtual offices also offer flexibility to seasonal businesses, as well as those who are expanding. "We have many clients in the accounting industry that rent traditional office space in Manhattan from us during peak season, when they need to meet with clients on a regular basis. The rest of the year, they maintain a virtual office with us at the same location, handling their packages, phone calls and voicemail. Our flexibility allows them to reduce office space costs while still providing them with every utility necessary to be successful and serve their clients." says Hayim Grant, President of Corporate Suites.
With the goal of professional appearance, location is extremely critical when choosing at virtual office. The prestige of Manhattan makes it the biggest United States virtual office market – giving New York City credentials to firms both across the river and across the globe a reputable address. "We offer virtual office services at all seven of our Manhattan locations, but we've seen some have higher demand then others. For example, our business center and virtual office at 275 Madison has seen pronounced demand from the marketing and advertising sector because of Madison Avenue's reputation as the premier district for that industry. Our location at 22 Cortlandt St. is preferred by legal professionals who need proximity to City Hall. Each location provides distinct advantages dependent upon the company's target market.'
To meet this demand and establish themselves as a leader in the extremely active virtual office market, Corporate Suites has completely revamped their virtual office offerings; offering three tiers of service that can be customized at the discretion of their clients. Service packages range from address-only services – mail handling and package reception – up to blended packages that combine address and phone services with several days of physical office space and conference room time each month.
Many firms specialize in New York City virtual offices, but do not offer on-site services such as traditional office space or conference rooms. "We think that's our advantage. Many companies will provide you with an address and phone number, but don't offer the physical presence. When our virtual office clients meet with their clients at one of our business centers, they are greeted by a professionally trained receptionist and have access to modern, professionally decorated conference rooms and offices with dedicated broadband internet and telephone services. When our clients need to conduct business in-person, we make sure they receive everything they need to succeed. The success of our clients – virtual office users, executive suite renters or those needing a conference room – are critical to our success and our top priority."
About Corporate Suites: Corporate Suites is one of the largest serviced office space providers in New York City. With over a decade of experience managing hundreds of executive office suites for thousands of satisfied clients, we will provide and professionally manage the perfect office solution for your business. Find more detailed information at http://www.corporatesuites.com/.