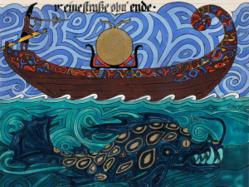 Don't miss this 3 hour seminar going deeper into this amazing book
Asheville, NC (PRWEB) December 27, 2012
Many have now examined some of the incredible images and writings that Carl Jung painstakingly recorded in his mysterious Red Book released in October of 2009. In January of 2010, leading Jungian Analyst Dr. Murray Stein led a seminar exploring the intricacies of this book and the many inspirations it holds. The response to the seminar was overwhelming and included a strong clamoring for a second seminar going into more detail. Dr. Stein agreed and in May of 2010 with the Asheville Jung Center he went much further into the text, including the third section known as The Scrutinies as well as The Seven Sermons to the Dead. Don't miss this 3 hour seminar going deeper into this amazing book now that it has been released in streaming video format.
Murray Stein, PhD is a training analyst and currently co-president of The International School of Analytical Psychology in Zurich, Switzerland (ISAP Zurich). He is the author of The Principle of Individuation and many other books and articles in the field of Jungian Psychoanalysis. From 2001 to 2004 he was president of the International Association for Analytical Psychology. He has lectured internationally and presently makes his home in Switzerland.
Click here for information on the Asheville Jung Center's Red Book Seminars and CEU Packages.
The Red Book: A Readers Edition can now be purchased online or at your local bookstore. The Original hard copy edition of Carl Jung's Red Book were hard to find and the cost was often upwards of $150. The Red Book: A Reader's Edition includes the all the text as well as Sonu Shamdasani's introductory essay. Unfortunately, it does not contain Jung's pictures or calligraphy. To celebrate the release of this affordable edition of Carl Jung's Red Book the Asheville Jung Center has launched new Red Book Seminar Continuing Education packages. The packages are available at the limited time introductory price of $79.99. The packages include a 3 hour streaming seminar, full transcript, and 5.0 Continuing Education Credit hours. The Asheville Jung Center was founded in 2008 to advance the psychology of Carl Jung and promote an international Jungian community. It is affiliated with innerQuest Psychiatry and Counseling, a regional psychiatrist group.