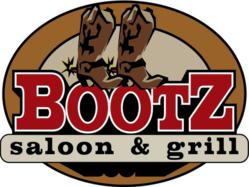 (PRWEB) December 27, 2012
New Year's Eve at Bootz Saloon & Grill, 8950 S. 27th Street Oak Creek, is serving up a country-style celebration. Patrons will receive a night of Southern hospitality with live music, a breakfast buffet and much more.
Ring in 2013 at this Milwaukee country bar to receive complimentary party favors. Take part in all of the New Year's Eve fun for only $10 at the door.
Live music from Hillbilly Rockstarz starts at 10 p.m. and a DJ will spin guest's favorite music until the wee hours of the morning.
A complimentary champagne toast is at midnight and a free breakfast buffet will be available for those who stay through 3 a.m.
"You don't want to miss this year's country rocking party, and we guarantee that you will have an unforgettably great time if you stop by Bootz for our New Year's Eve party! Any and all are welcome to take a whirl on the mechanical bull or line dance to Hillbilly Rockstarz, and DJ JT will be spinning the hits to the wee hours!" – Chris Clausen Owner of Bootz Saloon & Grill
For more information about Bootz Saloon & Grill's New Years Eve Celebration, call (414) 326-4113 or visit http://www.bootzsaloon.com.
About Bootz Saloon & Grill
Delicious drinks, tasty grub, and great times are always served up with Southern hospitality at Bootz Saloon and Grill in Oak Creek. Bootz Saloon and Grill features nightly drink specials, a mechanical bull, line dancing lessons and a menu of delicious American cuisine. Bootz Saloon and Grill is also known for its live music. With acts performing multiple nights of the week, Bootz is the premiere Milwaukee country bar to experience live country music.