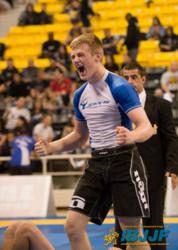 "Our guys have been on the grind for countless years."

- Timothy Spriggs, Medal Chaser
(PRWEB) December 30, 2012
This past week GracieMag visited Team Lloyd Irvin at their headquarters in Camp Springs, Maryland. GracieMag focused on the TLI competition team, also known as the Medal Chasers. The week-long feature is looking at the academy and how the students are transformed into competitors.
The GracieMag coverage of Team Lloyd Irvin's Medal Chasers included competitors from Crazy 88 Brazilian Jiu-Jitsu. These athletes are a part of an elite group who are working toward achieving excellence in the sport of Brazilian Jiu-Jitsu. Three of these competitors include Timmy Springs, Jon Delbrugge and Devon Delbrugge. Each of these competitors have placed and/or won tournaments at the international level.
Timmy Spriggs, a graduate of St. Johns University and currently a Brazilian Jiu-Jitsu Purple Belt, stated, "It's nice that we are finally getting the recognition that we deserve; a lot of our guys have been on the grind for countless years."
Gracie Magazine is one of the first magazines to cover the sport of Brazilian Jiu-Jitsu by primarily focusing on the teaching and art of the discipline. The magazine is printed in both English and Portuguese in order to accommodate its vast audience of readers. With the rise of Mixed Martial Arts and the UFC, Brazilian Jiu-Jitsu is growing and gaining more attention in the world of sports.
The upcoming Brazilian Jiu-Jitsu season is quickly approaching with the European Open kicking off the season in late January. Crazy 88 and Team Lloyd Irvin are in full preparation and are looking to make the 2013 season one to remember. For more updates and information about Crazy 88 Brazilian Jiu-Jitsu please visit the website at http://www.BaltimoreMixedMartialArts.com.
# # #