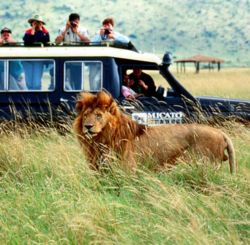 HOEDSPRUIT, South Africa (PRWEB) December 28, 2012
Vuyani Safari Lodge, one of South Africa's premiere safari lodging destinations, is planning the addition of two new riverfront suites. Construction is slated to begin in early 2013, with the resulting suites being the best the lodge has to offer.
"Each unit will have its own pool, its own deck, its own fireplace, and its own butler," Bernard Koppes states. "It will be able to cater for 4 guests (nice for families) each, and it will set new standards for the lodge."
Opened in 2009, Vuyani Safari Lodge has seen phenomenal growth in its annual visitors. The lodge works hard to ensure guests enjoy every moment of their stay, with top-notch amenities and above-average lengths of stay. In fact, Vuyani Safari Lodge's guests stay five to six nights on average, where guests of other facilities stay only two to three nights on average. This longer stay, when added to Vuyani's five-star ratings and high books, has led to a demand for more suites to satisfy guest needs. The new units are scheduled to be available in June, providing some of the best views on the property.
In addition to the new suites, Vuyani Safari Lodge will add a communal area for guests to visit when they aren't sleeping or out on safari. The communal area will include a professional kitchen to ensure guests are well-fed at all times.
Highly rated by Trip Advisor, the Vuyani Safari Lodge is located on one of South Africa's largest game reserves. When guests aren't relaxing and being pampered, they can join one of Vuyani's safaris, either on the same property or a neighboring property. Guests will dine on fine cuisine and South African wines, while enjoying world-class service by Vuyani's staff.
Vuyani Safari Lodge also offers an eternity pool for hours of relaxation. Guests can relax poolside in one of Vuyani's comfortable lounge chairs or enjoy the breathtaking views on the property's upper deck. In addition to safaris, guests can also enjoy river cruises and visits to a nearby elephant sanctuary. Vuyani Safari Lodge is located on a 36,000-acre property, leaving guests plenty to do without even leaving the grounds.
Visitors can also enjoy hot air balloon rides, giving them a bird's-eye view of South Africa. The area is also home to an 18-hole golf course, letting visitors indulge their love for the sport while in the area. Adding to the enjoyment of the game is the fact that the course is located in the heart of wildlife areas, with guests frequently spotting giraffes, antelope, and other wildlife as they're lining up a shot.
Vuyani Safari Lodge regularly offers specials. For more information on Vuyani Safari Lodge or to make reservations, visit the lodge's website at http://www.vuyanilodge.com/ or call +1.940.560.9623. The lodge is accessible via direct road transfer from the Johannesburg Airport, with shuttle service available.