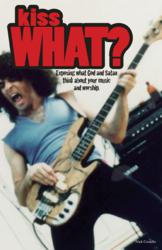 Not just another book on music and lyrics. It's so much more.
Canandaigua, NY (PRWEB) December 28, 2012
Former rock star Nick Costello lived out his childhood dream of becoming a rock star. He knows firsthand the power of music to communicate a message. But what is much of today's secular music communicating to our teenagers? Nick believes it challenges the godly values which should shape a young teenage mind. Nick says, "The risk is that teenagers can develop an unhealthy, negative, harmful world view, lifestyle, attitude and belief system."
A respected Focus On The Family Ministry music and culture research book titled Chart Watch claims, "Young people need to understand the persuasiveness of music, especially since today's recording industry promotes some of the most destructive content ever." (pg. 11)
According to Nick, Christian youth pastors, teachers and parents need to teach teenagers how discern what God desires for their music listening habits and warn them of the dangers of listening to ungodly, immoral, unwholesome music. His insightful teaching in KISS WHAT? provides the needed information they need to help teenagers grow spiritually.
KISS WHAT? answers questions like: Why does music exist? Is all music evil? Why obey God? and more.
KISS WHAT? is a must read for every teenager! It is chock full of scriptural references to support every teaching in the book.
Nick Costello spent 25 years in the secular music industry before becoming a Christian. He speaks the truth from personal experience. He has 'been there, done that'. Nick now travels the country telling his life story to people of all ages, to both secular and Christian audiences.
View promotional book trailer here.
Get your copy of KISS WHAT? today!