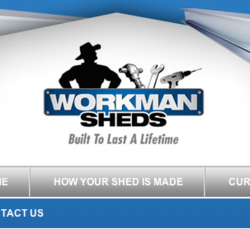 Australia (PRWEB) December 28, 2012
Workman Sheds, creator of high-quality rural sheds, is educating Australian residents on the benefits of galvanised steel. Storage structures are often subject to degradation over time, Workman Sheds explains, requiring replacement every few years. But Workman Sheds are built using materials that are resistant to wear, providing years of storage.
As Workman Sheds explains, the process of galvanising steel involves coating it with a protective layer of zinc. Since zinc is more durable than steel, this provides facilities like sheds with a weather resistance they wouldn't otherwise have.
"The galvanising process is less expensive and easier to apply than other protective coatings," Workman Sheds' Daniel Freauf explains. "This is a savings we're able to pass on to our customers."
Because steel is especially susceptible to rain's natural acidity, coating is necessary to protect steel from rust and corrosion. This allows residential and commercial sheds to be built using steel, which is desirable for its low cost and heavy construction, which allows it to hold up well through high winds. Steel sheds are also better at keeping bugs at bay than plastic or wood sheds. Steel sheds also hold up better under constant exposure to sun.
Workman Sheds uses structural steel, which contains cross sections for the reinforced protection provided by concrete without the high cost. Because they are built using the highest-quality, longest-lasting steel, Workman Sheds endure for many years without having to be repaired or replaced.
While Workman Sheds often builds sheds for residential and rural customers, the company primarily focuses on industrial and commercial work, as well as building sheds for the mining sector. Workman Sheds has found each client has its own challenges, with commercial, industrial, and mining clients having tight deadlines and quick turnaround times. Rural clients may be less strict on completion times, but Workman Sheds finds they tend to require extensive explanation, as well as an education on the process, which creates complications of its own.
When a company or individual chooses Workman Sheds, the company offers a customized 3-D rendering of that client's project. This generally costs nearly $2,000, but Workman Sheds provides it at no charge. The company knows that by getting the structure right the first time, the client will have a shed that won't have to be rebuilt or replaced. So they work closely with clients to make sure the structure is built to their specifications.
Each area has its own building requirements and standards, and Workman Sheds works within local requirements, obtaining any necessary permits. This will prevent a homeowner or business from having problems with area officials.
For more information about Workman Sheds, visit the company's website at http://www.workmansheds.com.au or call 1300 780 018 to learn about obtaining a quote for your project.