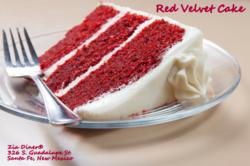 Santa Fe, NM (PRWEB) December 27, 2012
Zia Diner, a Santa Fe restaurant since 1986, has been serving up amazing desserts since day one. The dessert menu covers the gamete with several options offered that virtually cover every desire patrons may have in mind to satisfy their sweet tooth when visiting 'The City Different'. The company's homemade pie selection harkens back to the old days when diners and restaurants offered pie that made you think of the pies your grandma used to make when you were little. The cakes baked at the Zia Diner include the ever popular 'Red Velvet Cake' and the company's always amazing 'Classic Carrot Cake'. The Zia Diner is a featured business on the SantaFe.com Business Directory with its own business page. Listed below are the current dessert menu selections at the Zia Diner:
Desserts at the Zia:

Red Velvet Cake 5.95
Black Midnight Cake 5.95
Classic Carrot Cake 5.95
Strawberry Shortcake 5.95
Custard Bread Pudding with creme anglaise 5.95
Zia Éclair 5.50
Ice Cream Sundae, Hot Fudge, Caramel GF 5.95
Brownie Sundae 7.50
Old Fashioned Tapioca GF 4.95
Famous Homemade Pies by the slice 5.95 Apple Crumb, Strawberry Rhubarb Crumb, Key Lime, Coconut Cream, Banana Cream, Wicked Cocoa - a la mode add 1.25
About Zia Diner:
The Zia Diner is a true Santa Fe icon, now celebrating 25 years as a part of this community.
Serving upscale, down home comfort food, the Zia Diner, a Santa Fe Restaurant since 1986, serves updated renditions of diner classics – think Green Chile-Pinon Meatloaf – along with an eclectic menu of southwestern and international comfort food. This high-energy restaurant and bar prides itself on its professional and friendly service and exceptional food.
Contact Information:
Zia Diner
326 S. Guadalupe St.
Santa Fe, NM 87501
505-988-7008
About SantaFe.com:
SantaFe.com provides locals and visitors to Santa Fe alike the most current interactive platform for events, music, arts, business, dining and lifestyle. SantaFe.com is a division of Hutton Broadcasting, located at 2502 C. Camino Entrada, Santa Fe, NM 87507
Contact Information:
Scott Hutton
SantaFe.com / Hutton Broadcasting
(505) 471-1067 (Media inquiries only, please)