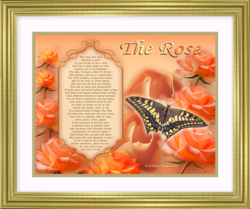 Just like a powerful inspirational song lyric or greeting card verse, Visions in Verse is a unique style of poetry and artwork that brings tears to your eyes and joy to your heart.
Naples, FL (PRWEB) December 29, 2012
A not to miss radio interview on BlogTalkRadio…
Save the date for a heartwarming and inspiring dose of Ruth Kuttler's life changing wisdom, creativity, inspirational poetry and art. Expect to be changed by a powerful story of transformation and a taste of Ruth's original poetry, stories in verse and empowering messages from her book Visions in Verse.
During a Spot Light interview by Doug Llewelyn on Close-Up BlogTalkRadio at noon EST on January 4, 2013, Ruth Kuttler will share her profound story of challenge, courage and change driven by passion – a spiritual journey that directly resulted from putting pen to paper during a career crisis about 11 years ago.
Ruth said, "It was through a quest to find my way out of a very unhappy life and discover my real purpose that I got connected with a part of me that I didn't know was there. In the process, I became free to listen to my heart and to live my dreams. That is what I want most for others through my work."
Ruth's passion and gift as a poet, graphic artist, teacher, and compassionate guide came through as poems, stories and messages that heal and nurture the heart and soul. A collection of writing in three categories from the book – inspiration, personal growth and relationships, these verses and associated original artwork help people get out of their own way to move forward where they really want to be.
The Best Gift of Empowerment for 2013
"It is during the New Year that people reflect on their life and set goals that require change," says Visions in Verse creator Ruth Kuttler. "Unfortunately, without mentoring, inspiration and empowerment that are driven by emotion, the best laid plans often give way to old habits and life as usual."
Ruth's emotionally compelling original writings and artwork heal and nurture the heart and soul, satisfy the insatiable hunger for hope and joy and quench the never-ending thirst for meaning and purpose. In the process, lives are changed.
Get a Little Taste of Visions in Verse with the Overcoming Adversity Poem called
Opening Doors...
The fairer sex is what she's called, a struggle to begin.
For in a world where man is king, it's difficult to win.
But tenderness and nurturing are not to be misread,
A strength and power to rule the world lie in her pretty head.
-- from "Opening Doors," by Ruth Kuttler
A Lifetime of Value and Meaning
The Visions in Verse book could very well be a favorite source of inspiration for making transformational changes, helping a friend or sharing a special occasion in the most meaningful way.
Kuttler said, "Customers love the words. One woman reported that she had six of my poems on her refrigerator and she read them everyday. It is not uncommon for people to buy multiple books for gift giving."
Customized Prints, Framed Special Occasion Wall Art and Personalized Creations
From exquisite original art poems for special occasions such as "On Mother's Day," "Graduation Day," "Wedding Day," and "The Best Christmas Gift," to the Visions in Verse book and full line of Inspirational Wall Art, customers are able to create their own gift right online. Some selections may be personalized with the customer's own picture in a star or heart shape within the design.
At Visions in Verse Frame Print Gallery, shoppers may browse from an array of illustrated poems, then select the size and the way they want it delivered – including formats like downloadable art, high-quality prints, and prints on canvas. Within the FRAME IT gallery, customers can control and select every detail of their purchase and see how it looks before they pay for it – a rare advantage in online retailing.
More about Ruth Kuttler and Visions in Verse
The brainchild – and the passion – of creator and founder Ruth Kuttler, Visions in Verse combines original poetry, stories and graphic art with the goal of providing insight, inspiration, hope and healing for people when they need it most. The online company creates books, poems, graphics and other special gifts to celebrate life events or as a token of friendship. Topics include Christmas, Wedding, Graduation, Overcoming Adversity, Mother's Day, Grandmother, Mother-Daughter, Valentine's Day, Friendship, Bereavement, and Spirituality.
Show Details
Listen to the show http://www.blogtalkradio.com/closeuptalkradio at noon EST on January 4th, 2013. If you have a question for Ruth, call (347) 996-3389.
Ruth is available for speaking in the SW Florida area. For more information on Ruth Kuttler, visit http://www.visionsinverse.com.