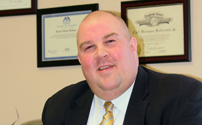 Our new site is designed entirely with our clients and potential clients in mind
Salt Lake City, UT (PRWEB) December 28, 2012
The Law Offices of Carl N. Anderson, III, PLLC, a Salt Lake City criminal defense and bankruptcy law firm, recently launched a new website, providing a valuable online legal resource to current and potential clients.
The site offers helpful information to remove some of the fear and uncertainty from the legal process, including basic information on Utah criminal defense and bankruptcy laws.
"Our new site is designed entirely with our clients and potential clients in mind," said Salt Lake City DUI attorney Carl N. Anderson, III. "We certainly hope they will use it as a resource to answer their initial questions, and then let our firm guide them through the legal process personally."
Website visitors learn how Salt Lake City criminal defense lawyer Carl Anderson can assist them with their legal issue. The firm has developed a reputation for maintaining high ethical standards while aggressively representing clients throughout Utah in criminal defense and bankruptcy legal matters.
About The Law Offices of Carl N. Anderson, III, PLLC
The Law Offices of Carl N. Anderson, III, PLLC provides solid, knowledgeable and experienced legal representation to clients in Salt Lake City as well as across Utah, Colorado and Nebraska. They focus primarily in the areas of family law, bankruptcy and general criminal defense, representing clients in cases involving:

Sex crimes
Violent crimes
Property crimes
Driving while intoxicated (DUI)
A native of Layton, Utah, Carl N. Anderson, III has spent nearly a decade pursuing his lifelong passion for litigation and advocacy. The result of these efforts is the Law Offices of Carl N. Anderson, III, PLLC, which enjoys a reputation as one of the most trustworthy, knowledgeable and experienced general practice law firms in the Salt Lake City area.
For more information about the firm, please visit the firm's website or call 801-988-9323.
The Law Offices of Carl N. Anderson, III, PLLC
5383 South 900 East
Suite 205
Salt Lake City, Utah 84117
801-988-9323