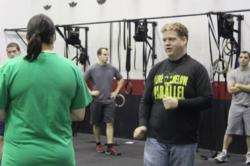 CrossFit allowed me to live.
Albany, NY (PRWEB) December 28, 2012
Albany CrossFit and CrossFit Clifton Park, today announced a New Year's diet and fitness plan built around the idea guaranteed to work best: a support system that helps people succeed.
"Losing weight and getting in shape are at the top of everyone's New Year's resolution list, but studies show only about 8% of people reach their goals," said Jason Ackerman, owner of Albany CrossFit and CrossFit Clifton Park.
Most resolutions fail because good intentions aren't enough. Too many people try to do too much too soon without a support system in place. They end up achieving nothing.
"That's why we came up with a plan that draws on CrossFit's greatest strengths: the community feeling and the caring attitude of our coaches," says Ackerman.
A 90 Day Paleo Diet Challenge begins at Albany CrossFit and CrossFit Clifton Park on New Year's Day.
Contestants will record improvements in diet, athletic performance and body composition. They will take before and after pictures, set goals, and track improvements in benchmark workouts including: CrossFit's classic Fran (pull-ups and the thruster barbell movement); Snatch (1 rep max); a 10,000 meter row; a one rep max back squat; and as many burpees as possible in seven minutes to a target 6 inches above the athlete's extended arms.
Sound tough? Not when you have great coaches and fellow participants to encourage you. Last year, over 100 members of the gyms participated in the diet challenge, losing thousands of pounds. Many said they had experienced life-changing transformations.
"Our members band together to form a remarkable support system," says Ackerman. "And we have people like one of our head coaches, Jason Murphy, to help you along the way."
Jason Murphy, affectionately known as Murph, is a classic case of "been there, done that." Just a couple of years ago, he was a 30-year-old cook who weighed over 400 pounds and didn't much like the life he was leading. He was totally out of shape, wore 6XL clothes and says "When you weigh that much, you feel pain every day. Even walking was difficult."
Some tough love from his brother, an MMA athlete, got Murphy into Albany CrossFit. There was no instant miracle. But progress was steady. Murphy liked the camaraderie and became competitive in the group workouts. He liked the caring atmosphere.
"Just going from 6XL to 5XL was huge for me," says Murphy. Within a few weeks, Murphy found that he was no longer last in workouts. After a year, Murphy was named Albany CrossFit's member of the month.
"That was a really big deal," says Murphy. He had lost 150 pounds by then and says he "felt like a celebrity" when fellow members gathered around to congratulate him.
Still, Murphy thought it was "a completely crazy idea" when CrossFit Albany coaches suggested he become a CrossFit certified trainer himself. But Murphy took the course, passed the test, and went on to become an Albany CrossFit intern, assistant coach and coach. Today, he is one of the head coaches.
"I may not be the best athlete, but I push myself hard every day and encourage members to be their best selves," says Murphy. He also thinks he understands scaling workouts to individual ability "at a different level" because "I remember what it was like for me when I started."
Many people call Murphy "an inspiration" but he shies away from the term, preferring a more humble approach. "I just want to help people," he says.
And then, in his quiet way, Murph drops a bombshell, saying simply: "CrossFit allowed me to live."
Jason Murphy will be one of the coaches for the 90 Day diet and fitness challenge. The program includes some lectures and goal-setting seminars. And there will be a new component this year, an optional reality show extra. Challenge contestants who agree to participate in "Kitchen Raid" will be subject to random home inspections by their coaches, with the results captured on video and posted to the Facebook pages and websites of Albany CrossFit and CrossFit Clifton Park.
"It will be a bit like Olympic athletes and random drug testing," explained Ackerman. "You never know when the inspection will happen. But it should be a lot of fun."
The entry fee is $50. Winners will receive prizes ranging from gift certificates to a free one year memberships.
"But this is not really about winning or losing a competition," said Caleb Nelson, a another coach at Albany CrossFit. "That's not what drives everyone. It's really about becoming your best self. Our participants end up happier and healthier. That's the real win."
One of the happier and healthier people is last year's winner, Katie Hunter. She lost 20 pounds during the Challenge, on top of the 35 pounds she'd previously lost and says: "This really got me out of my shell. I now know what I can do if I try. It was definitely a confidence booster. People now come to me for diet advice. I never thought that would happen." Katie gives a lot of the credit for her success to Jason Murphy, ho had been through a similar transformation.
The Albany CrossFit gym began modestly five years ago in cramped and shared space with a handful of members. It expanded to a second location in Clifton Park, then expanded its original location. Together, both gyms have over 500 members.
The Paleo diet is part of the journey. It consists mostly of fish, grass-fed pasture raised meats, vegetables, fruit, roots, and nuts. Grains, legumes, dairy products, salt, refined sugar, and processed oil are excluded.
CrossFit workouts focus on natural and functional movements and are different every day. Every workout is coached and the coaches scale the workouts to accommodate different ability levels. CrossFit uses barbells, kettlebells, pull up bars and many body weight movements including squats and pushups.
And it's a bit like the TV series "Cheers": everyone knows your name. Members strike up friendships, go out together and travel together. A few have even gotten married.