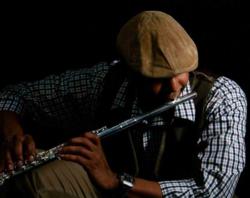 "The first time I saw Brandon Marceal, I noticed how he communicated with his audience, a musical story-teller that deserves a nod from the industry. ~ Jaijai Jackson, The Jazz Network Worldwide
Detroit, MI (PRWEB) December 29, 2012
Brandon Marceal has many facets to his artistry. Not only does it fall into a variety of genres, The Jazz Network Worldwide discovered his talents through an unsolicited video sent to Jaijai Jackson, creator of The Jazz Network Worldwide social network. The video was a holiday performance with Phil Denny Christmas Collective "The Christmas song". (http://www.youtube.com/watch?v=PkvuiFtHwCM)
"The first time I saw Brandon Marceal, I noticed how he communicated with his audience, a musical story-teller that deserves a nod from the industry. It's fun to find him and experience his electrifying performance as he engages his audiences with his artistry. A true treat to observe, a pure showman, humbly powerful, I wanted the jazz world to get a glimpse of his gift" says Jackson.
Brandon's talents extend far beyond performing; he's also a composer, arranger and songwriter. He's enchanting, mesmerizing and dedicated to his musicianship. By mastering intonation on his flute, he's creating a connection to the soul which makes his audiences exclaim "that's one soul-rockin-flute!". Whether playing a cover tune or an original, Marceal infuses a spirit of soulful melodies inviting an invigorating yet calming voice to any musical composition. His true passions are creating beautiful music and performing!
"Music runs through my veins. But I've learned over the years that this business is more than good songs or even great ones. It's networking. It's money. It's blood, sweat, and tears. It's having help. My desire is to surround myself with individuals that want to help me take my dreams, my passion, to new heights. The Jazz Network Worldwide allows me to do this. In 2013, my vision is to be a featured instrumentalist with various groups around the world. I'm available as an opening act, for weddings, live studio work, as a guest clinician, and any other area where the gift of a beautiful and soulful melody is needed. I tailor my sound to the moment. I've always loved to perform."
Brandon has been welcomed on stages from local elementary schools to national television shows. Some notable venues are the Word Network's "The Lexi Show," CBS' "Better Mornings" and the annual Sweet Auburn Festival in Atlanta. In addition to live performance, his last song placement was in the Universal Pictures international theatrical release, "Idlewild." Rapper Nicki Minaj has even recently taken notice of Marceal's awesome improvisational/"freestyle skillz," having named him winner of the "Best of the Bass," a national competition where singers and musician were challenged to remix and perform her smash-hit single, "Super Bass."
Be sure to swing by Brandon Marceal's official website at http://www.brandonmarceal.com, or http://www.reverbnation.com/brandonmarceal or his youtube channel http://www.youtube.com/guinnb.
###