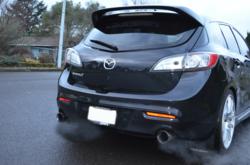 For customers looking to see some power gains, enhance the look of their exhaust system and add that classic aftermarket exhaust tone to an otherwise stock exhaust, the CorkSport Axle Back Exhaust is a great option for them
Vancouver, WA (PRWEB) December 27, 2012
CorkSport, a leading manufacturer and reseller of Mazda aftermarket performance parts, announced today that it has expanded its CorkSport Mazda performance product line to include the CorkSport Axle Back Exhaust for the 2010+ Mazdaspeed 3.
Being offered as an alternative to the CorkSport 2010+ Mazdaspeed 3 Cat Back Exhaust, the Axle Back Exhaust has been designed to replace the mufflers on the Mazdaspeed 3 with a straight through pipe to minimize exhaust restrictions and provide the nice deep tone typically associated with an aftermarket exhaust system, but for a fraction of the price.
"For customers looking to see some power gains, enhance the look of their exhaust system and add that classic aftermarket exhaust tone to an otherwise stock exhaust, the CorkSport Axle Back Exhaust is a great option for them," said CorkSport Engineer Brydon Foster, "However if they are planning to add a downpipe or racepipe later on, the Cat Back Exhaust will be a better fit."
As with the Cat Back Exhaust system, the Axle Back Exhaust features corrosion resistant T-304 construction to ensure a long life and is manufactured with exacting standards using mandrel bent 80mm piping for a smooth flow and TIG welds for a strong, clean connection.
The most visible part of the exhaust, the tips, feature 100mm polished stainless steel that will accent the Mazdaspeed 3 and provide a nice clean aftermarket look.
For additional information and pricing for the 2010+ Mazdaspeed 3 Axle Back Exhaust, please visit CorkSport's online catalog today.
CorkSport, a leading manufacturer and reseller of Mazda aftermarket performance enhancement products was founded in 1998 by Derrick Ambrose and Richard Harris. CorkSport's leading technology and innovation, lean manufacturing expertise, and global distribution network deliver world-class products, brands and service at a competitive cost. The company is headquartered in Vancouver, Washington and has dedicated itself to offering high level performance products and support for Mazda vehicles. Today, CorkSport is among the oldest of the aftermarket parts manufacturers in the United States exclusively serving the Mazda market. Visit CorkSport online at http://www.corksport.com