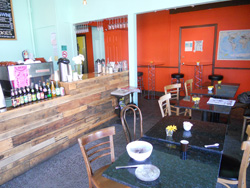 "Our new Levain bread is airy and tender, making it complimentary to any sandwich or Panini," said Matt Roder, owner of L'acajou Bakery & Cafe.
San Francisco, CA (PRWEB) December 28, 2012
L'acajou Bakery and Café, is featuring a new bread on their menu called levain. This French country loaf is 30% whole wheat pain au levain. It is made with naturally occurring yeast, not commercial yeast. The loaf has a crust similar to a country style crust, with color that varies from golden to mahogany. A fitting addition to the menu, as 'acajou' means 'mahogany' in French.
Levain is airy and tender, making it a complimentary bread to any sandwich or Panini. In the café, sandwiches and Panini's can be served on levain. Or, levain is available for purchase at $6 a loaf to take home.
L'acajou Bakery and Café also offers lunch catering services for local events, corporate lunches, or private parties. They offer free delivery to SOMA, and the Financial District of San Francisco. L'acajou's menu has an array of breakfast options, Panini, lamb sandwiches, and vegetarian dishes. Brunch begins at 10 a.m., and includes a variety of egg dishes, waffles, and mimosas. Their traditional bakery offerings include fresh baked cookies, cinnamon rolls, and scones.
L'acajou Bakery & Cafe in San Francisco is located off the freeway in the midst of the SOMA and Portrero Hill area, and more information about L'acajou's menu and their specials can be found at http://www.frenchbakerysanfrancisco.com, or call (415)503-9696.
About the company:
L'acajou Bakery and Café, established in June 2010, first came into being in 2009 at a commercial kitchen located in San Francisco's SOMA district, where Matthew hand-crafted and then delivered his baked goods to locally-owned cafes. Now firmly rooted in SOMA, L'acajou Bakery and Café continues to pique the interests and appetites of Bay Area residents and supply other coffee houses and eateries in want of a little savory or a little sweet L'aca-lovin'. Matthew's culinary philosophy, nurtured at the California Culinary Academy, allows the flavors of organic and sustainably-produced ingredients to declare themselves, and brings them together with a sensibility shaped by his ever-present wanderlust, and an array of international influences.