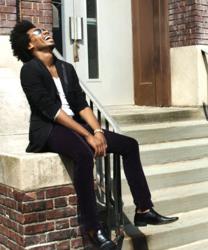 Within every song lies the power to share, understand, and celebrate the ups and downs of life.
New York, NY (PRWEB) December 28, 2012
In the pop music universe of superstars, artists spend weeks recording in the studio. Teams of sound engineers, vocal producers and highly calibrated equipment churn out glossy EP and LPs. The goal is perfection. But when Gedeon Luke went into the studio to record his debut EP, his goal was just the opposite. Recorded in just four days, it's live, raw, full of flaws and aptly titled "Perfect Ain't Perfect."
The thing is critics are crazy about it—ironically calling it "near perfect," naming it the "Hail Mary EP of the Year" and featuring selections as "Song of the Day" on leading online music sites. During a recent performance on Asbury Park Press's 66 Sessions studio, the 23-year old artist explained that his old-school approach stems from the belief that "old school is soul school. People of my generation don't get it. But I get it," he said.
Often compared with Lenny Kravitz, Al Green and Prince, the newcomer offers a mashup of funk, Gospel and blues. His intent was to "defy the trend of the moment," he told eTalentShowcase.com. "This album is more than music," said Luke. "It is a message. Within every song lies the power to share, understand, and celebrate the ups and downs of life. My hope is that people listen to this record in its entirety and allow themselves the space to soak it all in. My aim is to bring back music with no boundaries." The album—featuring a full band that included, Jack Daley (Lenny Kravitz), James Poyser (The Roots), and Bobby Sparks (Prince) and two-time Grammy winning producer Marc Swersky—debuted mid-December.
To promote the EP, Luke partnered with eTalentShowcase.com. "I admire the way the site fosters the careers of unsigned, unknown talent and I wanted to be a part of it," he said.
As for his time as a contestant on season five of American Idol and its lingering affects on his music career, the Memphis-born artist says he's grateful for the experience. "Let's just say I went from being a boy to a man. It allowed me to realize who I wanted to become. I'm now more comfortable in my own skin. A lot of people tried to push me in directions that were clichéd and predictable. I just couldn't do it. I needed to feel authentic. At the end of the day, I truly believe if you can stand the pain, you can play the game."
To read more about Gedeon Luke and listen to his music, visit eTalentShowcase.com. Or to see him perform live, Luke will be at Mcloone's Supper Club doing Songwriters in the Round on January 20th at 6:00pm (http://www.lightofday.org/) and will be at The Cutting Room in NYC on Jan. 31st at 7:45 (http://www.ticketfly.com/event/202093-gedeon-luke-new-york/).
eTalentShowcase is a social media site—which provides artists and entertainment industry professionals with powerful, intuitive tools to connect, promote and prosper online—offers free profiles, original content, contests and a base of active, engaged fans. eTalentShowcase, Where Talent Gets Discovered.
Gedeon Luke EP now available on itunes.