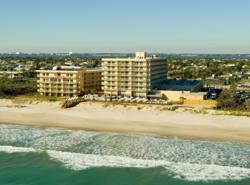 These stunning upgrades add to the experience of a dream getaway to our oceanfront property.
Melbourne, FL (PRWEB) December 27, 2012
Crowne Plaza Melbourne Oceanfront is nearing completion of a $6 million property renovation, featuring upgrades to many components of the hotel. The project should be completed by February 2013, in time for the peak season.
Orlando-based designers at L2 Studios took on the project and generated the hotel's new concept design while also keeping loyal to the local ocean and surfing cultures. One major change is the color palette across the hotel: sea blues and greens incite the soothing waterfront and are found everywhere, from the guestrooms to public spaces.
The onsite restaurant and bar have been renamed "Marisol" and "The Surfside Lounge," respectively. "Marisol" combines the Spanish words "mar" and "sol" meaning "sea and sun."
"These stunning upgrades add to the experience of a dream getaway to our oceanfront property," said Diane Reardon. "Our focus is on modern, sophisticated design that supplements a relaxing and rewarding vacation."
The renovation also includes the following exciting changes:

The showcase of each room is a new bedding package in juncture with the Crowne Plaza brand's "Freshen Up" program
Both Marisol and The Surfside Lounge will highlight one of the hotel's greatest assets: its 6,000-square foot oceanfront deck
Cuisine will feature beachside fare, keeping many of Chef Brad Francis' award-winning favorites on the menu
Guests can be one of the first to experiences these renovations by reserving a room. They may book online or call 877-701-9252 or 321-777-4100.
About Crowne Plaza Melbourne Oceanfront:
A conveniently located beach hotel in Melbourne, Florida, Crowne Plaza Melbourne Oceanfront features plush accommodations ideal for families, groups, business travelers and couples. With 265 comfortable guestrooms, 25 spacious suites, a complimentary business center, 24-hour fitness center and a complimentary airport shuttle, this hotel makes travel to the coast easy and efficient. The hotel's relaxing Ocean Reef Spa, ocean deck, outdoor pool and hot tub provide ample opportunities to relax, and Marisol restaurant and the Surfside Lounge serve some of Melbourne's best food and drink onsite. Crowne Plaza Melbourne Oceanfront is located within a short drive of Patrick Air Force Base, Port Canaveral, and Orlando theme parks.