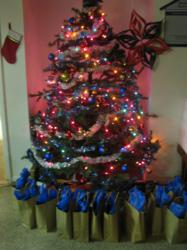 (PRWEB) December 28, 2012
In addition to the gifts that get flown or trucked in for Christmas morning, gift bags of goodies are put together and distributed during the Village Christmas celebration, generally held the week before Christmas. The gift bags for the Village Christmas are filled with things like bath products, hats and scarves, fun socks, small toys, holiday pencils and notebooks. There was even a warm, fuzzy blanket for each youth this year.
Erin Ludwig of the Mt. Pleasant Jaycees shared, "The Mt. Pleasant Jaycees see great value in the services that Eagle Village brings to the youth they serve. They are always high on our list of non-profits to help. This donation was especially important to our group as we know Eagle Village works with a group of young people that needs to know they are supported by their community. The Mt. Pleasant Jaycees likes helping Eagle Village spread Christmas joy to all of the youth they serve."
This year's Village Christmas celebration spanned two days and included a short reception, allowing guests to meet some of the young people and learn a little more about them. There was also a program organized by Chaplain Jeremiah Ketchum and youth from several of the houses. After the program on the second day, board members and volunteers visited the residential houses delivering gift bags to each teen.
Lisa Spaugh, Marketing Coordinator for Eagle Village, commented, "Christmas donations from organizations like the Mt. Pleasant Jaycees as well as other groups and individuals help us make this emotional season much brighter for our residents and foster children. We want them to know that no matter what, the Eagle Village staff and friends and donors in the community care about them and want to see them do well."
Eagle Village is a non-profit organization providing Intervention Services, Residential Treatment, Foster Care and Adoption services for all counties in Michigan. If you know of a family in crisis that may benefit from these programs contact Eagle Village at 231-832-2234.