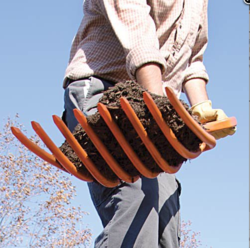 Piqua, OH (PRWEB) December 28, 2012
A.M. Leonard, the leader in the horticultural tool and supply business, has just introduced an exclusive new tool to the industry. Made in the USA, the new Leonard all poly scoop fork is a low-weight alternative to steel scoop forks; at only 4 lbs in weight, it is 25% lighter than many steel forks, while remaining tough and durable enough to provide many years of service. In fact, it is backed by a lifetime warranty. Ideal for tackling pond debris, water-soaked soil, hay, mulch, compost, manure, and leaves, this all poly fork won't wear you down like a typical steel fork.
Tough enough to survive being run over by a truck, the Leonard poly scoop fork features an all poly construction with beveled tines to pierce through mulch piles, straw, compost, leaves, hay and more, while the deep scoop-shaped tines yield a high-carrying capacity. The 8-tine construction features an average 1-3/8-inch tine spacing, similar to our forged steel fork, to gather material as well as a steel fork. The poly handle has a comfortable feel and the large 1-3/8-inch diameter grip is textured for slip resistance. The poly fork's handle length of 30 inches provides good reach and balanced control. Head is 14-1/2" x 15". Overall length is 44-1/2".
About A.M. Leonard
Since 1885, when Ashbel Merrel Leonard started a backyard nursery in Piqua, Ohio and 1928 when A.M. and his youngest son John started a wholesale horticultural tool and supply company, we have been dedicated to serving growers, landscapers, arborists, grounds management professionals, contractors, golf courses, resorts, and gardeners. We offer a large selection of quality gardening products backed by superior customer service. In 1999, we introduced our own line of A.M. Leonard gardening tools that offer the quality, features and value that most manufacturers aren't willing to deliver. Today, with our state-of-the-art distribution facility of over 100,000 square feet, A.M. Leonard continues today as a leader in the horticultural industry with emphasis on doing business the "old fashioned way." For more information regarding A.M. Leonard, visit http://www.amleo.com.