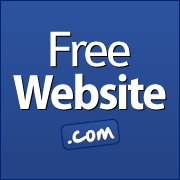 New York, NY (PRWEB) December 27, 2012
FreeWebsite.com published a recent article in its blog about the importance of creating website for businesses. The website provider further states that websites can effortlessly create a powerful online presence and build immense brand value for businesses.
"Not having a website can put your business at the risk of losing customers to others who have forged their own space online. It is time for small businesses to act and create a strong virtual presence. Everyone is making purchasing decisions online on their smart phones, tablets and computers. It is time to embrace the Internet," said a FreeWebsite.com representative.
FreeWebsite.com provides many options starting from the basic package, which is absolutely free. This package provides business owners with the opportunity to promote their brand and to reach out to potential customers. Premium options are also available for business owners who want to add more customized features to their websites.
The article also mentions that creating a website on FreeWebsite.com is substantially simplified and almost effortless. Business owners can choose from professional state-of-the-art templates developed by the team of experienced web developers at the company.
To read the article, visit http://www.freewebsite.com/creating-website/
About FreeWebsite.com: FreeWebsite.com breaks down barriers to website ownership by providing attractive, easy to maintain websites, complete with content, at a low price. To learn more, visit FreeWebsite.com