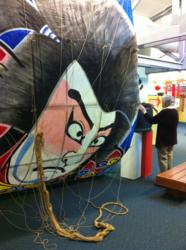 The things these flyers can do with kites are amazing!
LONG BEACH, Wash. (PRWEB) December 28, 2012
According to the World Kite Museum, neither gale-force wind nor torrential rain will dampen spirits at the 12th annual Windless Kite Festival, Jan. 19 and 20, on Washington's Long Beach Peninsula. Kite flyers and spectators will take to the shelter of the Long Beach School Gymnasium to compete, exhibit, watch and learn about flying kites indoors during this two-day, fun, family-friendly event.
"The things these flyers can do with kites are amazing!' exclaimed Andi Day, executive director, Long Beach Peninsula Visitors Bureau. "Watching the graceful aerobatics of cheerful, colorful kites during the dark days of winter is a great way to spend a January weekend."
Featured flyer this year is 11-year-old Travis Reedy. Amateur and notable flyers, including Connor Doran (of "America's Got Talent" fame) and event organizer Scott Davis, will compete, exhibit and instruct festival goers on the art and craft of flying kites indoors. Program times are 10AM to 5PM on Jan. 19 and 11AM to 2:30PM on Jan. 20. The gym opens at 8AM both days for free flying time. Spectators are welcome. Event admission is by donation.
With adept hand and foot work, flyers will wow crowds as they artfully perform choreographed routines and compete as solos, duos and groups. Included among the competitive events are the first Open Individuals Indoor Singleline and the crowd-favorite Hot Tricks Shoot Out, where flyers challenge each other to match one difficult stunt after another.
Free instruction in keeping ultra-light kites aloft and "dancing" with flicks of the wrist and movement across the floor will be offered on Saturday from 3:30 to 5PM.
Host to the annual Washington State International Kite Festival each August, Long Beach has been called the 'Kite Capital of the U.S.' Kite shops, resident kite flyers, and the beloved World Kite Museum provide enjoyment for longtime enthusiasts and first-time flyers alike.
A 28-mile long spit of land in the southwestern-most corner of Washington, the Long Beach Peninsula boasts a string of coastal communities with satisfying restaurants, fresh seafood, welcoming accommodations, unique shops, and fine art galleries. Attractions include national and state parks, the Lewis and Clark Interpretive Center, two historic lighthouses, an 8.5-mile paved coastal bike and pedestrian trail, the Willapa Bay National Wildlife Refuge, one-of-a-kind museums, and a 26-mile-long stretch of wide, sandy, public beach.
For a complete schedule of events, call the World Kite Museum at (360) 642-4020 or visit http://kitefestival.com/windless-kite-festival-2/. For destination information, please call the Long Beach Peninsula Visitors Bureau at 800-451-2542 or access http://www.funbeach.com.