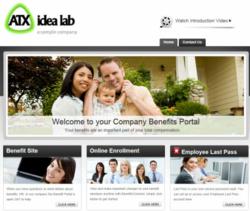 Employee LastPass removes a major barrier to employee benefits sites, promoting easy and regular access. Simplifying the sign-in process is particularly useful to the growing number of people accessing their information from mobile phones - Jeff Hill, CEO
Austin, TX (PRWEB) December 31, 2012
AOR Technology, a leading designer of custom Human Resources and benefits portals, today announces that it has partnered with LastPass to provide employees with a secure, single password sign-on to access all of their Human Resources, benefits, and payroll information. Employee LastPass™, a password management tool, will be integrated into all AOR Technology portals completely free-of-charge, giving users a unique sign-in that allows them to access multiple sites from their Human Resources or benefits portal using any computer or mobile device. Employee LastPass™ removes the need to track or remember multiple passwords and provides a high level of security to protect confidential and sensitive employee information.
"Most know how frustrating it is when you've forgotten or fumbled around for your password or username, and the valuable time wasted in recovering it—often requiring a support call and a password reset," says Jeff Hill, CEO, AOR Technology. "To get around this, many use the same username and password to access all their sites, which puts all your personal information at risk. Employee LastPass removes a major barrier to employee benefits sites, promoting easy and regular access. Simplifying the sign-in process is particularly useful to the growing number of people accessing their information from mobile phones. Thanks to our development partners at LastPass, we're able to make this available to customers completely free-of-charge, making our benefits portals and websites even more user-friendly—increasing their utilization and value to employers, providers, and benefits brokers."
"Our goal is to ensure that personal data is safely locked away until an individual needs it," says Joe Siegrist, CEO, LastPass. "Embedding Employee LastPass within AOR Technology portals provides employees with quick, seamless access to benefit resources without the hassle of remembering or locating passwords. It also offers them peace of mind when it comes to protecting personal information that may be housed on multiple web sites."
Employee LastPass™ will be offered as a free add-on for all portals built and maintained by AOR Technology.
About AOR Technology
AOR Technology, Inc. custom designs Human Resources and benefits portals that simplify management, lower barriers to access, and promote effective communications. AOR Technology works with brokers and their employer groups to centralize benefits, payroll, and wellness resources on a single platform, which is accessible via a single sign-on feature, making critical information instantly available from any desktop, laptop, tablet, or mobile device with Internet connectivity. For more information, visit http://www.aortechnology.com.
About LastPass
The LastPass team believes your online experience can be easier, faster and safer. Collectively we lose more than 10,300 hours per year retrieving lost passwords, making new ones or talking to call center representatives about them. And it gets much worse if a password is stolen and misused. We go online to connect with people, explore, shop and learn. We certainly don't go online to fuss with passwords or risk our privacy, personal or financial information. Designed by web enthusiasts and skilled application developers, LastPass was created to make the online experience easier and safer for everyone. For more information, visit, https://lastpass.com/.
# # #
For editorial information, contact:
Jeff Hill
AOR Technology
817-897-0947