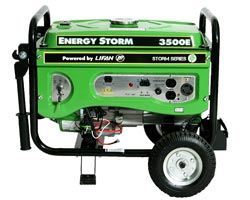 Destin, FL (PRWEB) December 28, 2012
The news services have been filled with stories of weather related events recently, and it seems the whole country is being affected one way or another. There are severe storms and tornados in the south, and ice and snow in the north. The one event that connects these weather events is the loss of electrical power. To help customers better prepare for future severe weather, Disaster Relief Supply, LLC is helping customers find the right generator by adding a "Wattage Usage Chart" to all of their generator listing pages.
"Keeping warm is the second most important thing in an emergency," says Mike Fisher, Marketing Manager of the emergency preparedness store, "a safe water supply is number one, but keeping warm can be almost as important."
Homeowners in the north are most affected by winter storms because of the loss of heating due to the interruption of electricity to power that controls the furnace electronics and fan motor. Whether using natural gas or oil heat, a furnace requires electricity operation, and without an operational furnace severe harm from hypothermia, pneumonia, and other cold-related illnesses could become present.
A gas or oil furnace does not require an extremely large generator. The only furnace component that sucks a lot of power is the fan motor. For safety, an electrician can wire a transfer switch for the furnace circuit and any other critical electrical appliances in the house for a direct connection to the generator. This setup will prevent the generator from back-feeding electricity into the electrical grid. Disaster Relief Supply customer service can help determine the size of a generator required to power the important items in the house during an emergency. Homeowners can also access a power usage chart at http://www.drsupply.net. Just click the link on any generator page to access the usage chart (please note that these usage figures are estimates. Customers should check an owner's manual for each appliance for exact usage requirements).