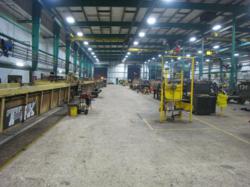 Jacksonville, Florida (PRWEB) December 29, 2012
TTX Company's Southeastern Repair Division in Jacksonville, FL recently received the Orion Energy Environmental Stewardship Award in recognition of completing a project to upgrade their existing lighting systems with new energy efficient technology.
Southpoint Solutions worked with TTX to develop and implement this project utilizing the patented technology of Orion Energy Systems. Inefficient high-intensity discharge (HID) light fixtures in the shop and outdoor areas were replaced with Orion's high-intensity fluorescent (HIF) technology, and office areas with T12 fluorescent lighting were converted to more efficient T8 fluorescent technology.
As a result of the project, TTX Company expects to cut its light-related electricity usage, and the associated costs, by almost 50 percent. An added benefit is that lower electricity usage means less fossil fuel emissions associated with electricity production. By completing this project, TTX has indirectly reduced the amount of air pollution by 151 tons of carbon dioxide which has an equivalent impact of saving 18,740 gallons of gasoline annually or planting 42 acres of trees.
The project was partially funded using the InvestSmart with JEA program that provides rebate incentives designed to help businesses make energy-efficiency upgrades at a lower initial cost.
TTX Company is North America's leading provider of railcars and related freight car management services to the North American rail industry. The Jacksonville facility provides repair services for the entire TTX fleet of rail cars. Dennis Schuman, Operations Coordinator for TTX SRD Jacksonville, tells us "It really made for a dramatic impact when the employees showed up Monday morning and could see the new lights from the parking lot, and I soon noticed that the walls looked so much brighter and cleaner."
Since 1955, TTX has been a unique and creative provider of rail cars and related freight car management services to the rail industry. TTX is privately-owned by North America's leading railroads and was created to provide them a pool of railcars. TTX proudly sustains and builds on this heritage today, owning and managing a fleet of more than 145,000 flat cars, boxcars and gondolas that move intermodal containers, automobiles, lumber, machinery, building materials, steel and other commodities across Canada, Mexico and the United States. For more information, visit http://www.ttx.com.
Southpoint Solutions, LLC. is an energy services company that designs and deploys energy management systems consisting primarily of high-performance, energy-efficient lighting platforms, intelligent wireless control systems and direct renewable solar technology for commercial and industrial customers. For more information, visit http://www.SouthpointSolutions.com.