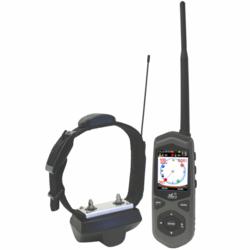 GPS Dog Fence is the most portable and convenient Wireless Dog Fence offered by DogWirelessPlus.com.
Annandale, New Jersey (PRWEB) December 29, 2012
Utilizing GPS-guided technology, the D.E. Systems Border Patrol TC1features a portable, wireless, and easy to use Dog GPS Fence system.It creates a circular fence of up to an 800 yard radius that has a SafeZone, Warning Zone, and Stimulation Zone. It also has a patented WelcomeHomeTM feature allowing a dog to re-enter the Fence area without acorrection.
The Border Patrol TC1 also includes remote trainingfeatures with up to a 2 mile range. 50 levels of Nick and Continuous stimulations are available, as well as Jump and Rise stimulations. The Vibration feature will Vibrate the collar unit. The unit also has the ability to mark up to 4 different waypoints. If a Fence is active, the Fence center is also automatically saved as a waypoint. The remote trainer is a safe and effective training tool when used properly.
Combining features found in Dog Wireless Fence, Dog Training Collars and GPS Dog Collars make the TC1 Dog GPS Fence System an extremely versatile product. There are several other Dog GPS products that combine tracking and training with the ability to store waypoints. Some do have greater tracking ranges and greater stimulation ranges than the TC1.These other GPS Dog Collars are more suited for hunting and sport than the TC1 but the TC1 is the first to have a circular boundary with a Warning Zone and a Stimulation Zone just like Wireless Dog Fence.
Not only does the TC1 allow the pet owner containment, when their dog is out of sight the tracking ability of the TC1 allows the owner to know just where their pet is.
As with Wireless Dog Fence, GPS Dog Fence does require boundary training with flags for visual recognition of the boundary and the relationship to the warning beeps, vibration and the ultimate stimulation. After an understanding of the warning beeps, vibration and the eventual Stimulation the pet will know how to respond if the center and boundary is in a different location either at the home property or any other location the family may move or travel to making GPS Dog Fence the most portable and convenient Wireless Dog Fence offered by DogWirelessPlus.com.
About DogWirelessPlus
Started in the summer of 2012 DogWirelessPlus.com provides Wireless Dog Products to help dog owner's track, train, and contain dogs including Wireless Dog Fence, GPS Dog Collars, Dog Training Collars and now GPS Dog Fence. Some dogs may seem nearly impossible to train, but a simple wireless dog device can provide the solution. For the very best in Wireless and GPS products for dogs, shoppers can visit http://www.dogwirelessplus.com/