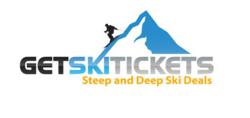 We are working hard to give people an online marketplace, where they can shop for ski deals.
Denver, Colorado (PRWEB) December 28, 2012
GetSkiTickets.com, an online ski deal company, is announcing a new partnership with Moonlight Basin Resort in Montana. Moonlight Basin is a public resort located only an hour from Bozeman, Montana, and just two minutes above Big Sky Resort. Moonlight Basin has over 1,900 skiable acres and receives an average of 400 inches of annual snowfall. There is a joining chairlift with Big Sky Resort, which gives skiers and riders access to more than 5,500 skiable acres.
Online ticket resellers, like GetSkiTickets.com, are working to provide more affordable opportunities for people to ski and ride in North America. Moonlight Basin and many other resorts are willing to offer discounted products as long as online resellers adhere to strict guidelines. For example, guests must purchase all tickets and products in advance, must commit to specific dates, and in many cases tickets and products are non-refundable.
Heather Quinn, Owner and Co-Founder of GetSkiTickets.com, says, "Skiing and riding is a favorite past time for many people, but they just can't afford it anymore. We are working hard to give people an online marketplace, where they can shop for ski deals. The people who benefit from our website are guests who plan their vacation ahead of time and know the terms and conditions."
Resorts, like Moonlight Basin, see the value in selling their tickets through these types of sales channels and guests see the advantages in planning ahead to receive the best deals in the marketplace. "There is a winning combination between resorts and guests and we're trying to bridge the two together," says Heather Quinn.
Currently, GetSkiTickets.com offers lift tickets and ski packages for Colorado, Utah, Wyoming, Idaho, Nevada, New Mexico, New York, California, Maine, Alberta, and British Columbia. The company is family owned and operated and began operations in 2008. GetSkiTickets.com continues to attract more resorts for promoting current lift tickets and ski deals.