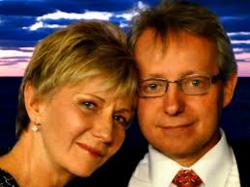 Fiona's insights into Mormon theology, literature, and praxis are the kinds of ideas we want to highlight in this year's Sunstone Conference.
Salt Lake City, Ut (PRWEB) December 27, 2012
Fiona Givens, coauthor of "The God Who Weeps: How Mormonism Makes Sense Of Life", will be the keynote speaker at this year's Christ Conference presented by The Sunstone Education Foundation held at the Salt Lake City Main Library on Saturday, December 29th from 9am – 5pm. Her keynote address will be titled, "The Great High Priest."
Sunstone, the Mormon-themed theological and historical journal that focuses on providing forums in which LDS Church members and marquee LDS scholars can engage in the free and frank exploration of doctrine as it relates to the complexities of today's society, including discussions on contemporary historical and theological scholarship, literature, and social issues, organized the Christ Conference. "We are thrilled to include Fiona's thoughtful work in Sunstone's Christ Conference", says Mary Ellen Robertson, Interim Executive Director of Sunstone. "Fiona's insights into Mormon theology, literature, and praxis are the kinds of ideas we want to highlight in this year's Sunstone Conference."
Fiona Givens was born and reared in East Africa and raised in the Catholic Church before converting to Mormonism at the age of 19. She holds a Master's Degree in European History and is recently retired from being the French Language Program Director for school districts in Virginia, where she and her husband Terryl reside. She authored "The God Who Weeps" alongside her husband, Terryl Givens, the James A. Bostwick Professor of English and Religion at the University of Richmond. A longtime collaborator in her husband Terryl's previous books, which include "People of Paradox: A History of Mormon Culture", "Parley P. Pratt: The Apostle Paul of Mormonism" and "Viper On The Hearth: Mormons, Myths and the Construction of Heresy", Fiona's co-authorship of "The God Who Weeps" is her first official collaboration and marks her welcomed introduction onto the public stage as a Mormon theology thought leader.
A "fiercely and frighteningly intelligent" woman, as a reviewer recently referred to Fiona, her work has been met with accolades from both Mormons and non-Mormons alike. "Fiona joins the very small group of women who have published serious theological work in the last few decades. Her work is expansive; it broadens the conversation to a non-academic audience, and also brings Mormon theology into the conversation with the wider Christian tradition" says Kristine Haglund, Editor of Dialogue: A Journal of Mormon Thought. "With 'The God Who Weeps', Fiona joins the ranks of Eliza R. Snow and Beverly Campbell as one of our great Mormon theologians," says Lisa Butterworth, founder of the popular blog and podcast Feminist Mormon Housewives.
Robert P. George, McCormick Professor of Jurisprudence at Princeton University, called the Givens' work, "a…theological reflection that has much to offer intellectually and morally serious men and women of every religious persuasion who ponder the mystery of a God who, though profoundly transcendent, reveals himself to us." This type of response to Fiona's work led The Sunstone Education Foundation to extend an invitation to Fiona to participate in their conference as the Keynote speaker. "As we all try to be better disciples and followers of Christ, it helps to have guides as contemplative as the Givens", says Robertson.
Other speakers at this years Sunstone Christ Conference include Matt Bowman, author of, "The Mormon People: The Making of an American Faith"; Jacob Baker, owner of the popular blog RationalFaiths.com; Elizabeth Pinborough, well-known blogger, artist and academic, and others. Seats are limited and guests are encouraged to pre-register for the conference by visiting: https://www.sunstonemagazine.com/symposium-registration. Tickets will also be available for purchase the day of the event, space permitting.
Fiona will be available for interviews on Friday, December 28th to discuss "The God Who Weeps", the Christmas season, the Mormon Moment and Saturday's Sunstone Christ Conference.